The keg chick costume. By far the coolest.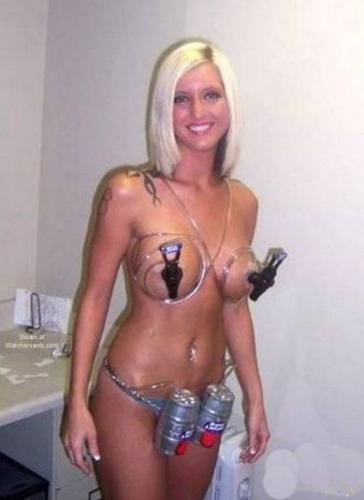 United States
August 7, 2007 9:07pm CST
Have you ever been to a costume party? I have at one point, but i feel kinda goofy dressing up in some odd costume and parading around a bunch of drunk people. Some people however, really get into it and come up with some elaborate costumes to stand out from the crowd. A buddy of mine recently uploaded this pic and i was stunned, check out the pick and tell me this isn't the coolest costume you have ever seen, especially if you a guy. Whats the craziest costume you have ever seen worn before?? I'd like to hear about them
2 responses

• United States
8 Aug 07
About the only thing to say is WOW! I would think she needed to have a body gaurd with her at all times. LOL You truly have to have a great body image of yourself to wear that outfit, if that is what you would call it. However I am with you. Costume party's do not do it for me. Never has. Of course Keg girl may have changed my mind. LOL

• United States
8 Aug 07
That is really some cool costume in more ways than one. She would have to be a bit of an exibitionist to wear it. I've never really been to much a real costume party. A couple of Halloween parties, but I'm not much of one for costumes. About the most I ever did was to wear two masks so that I had a face on both the front and back of my head and I wore my shirt backwards also. It was pretty much a flop.