Michael J. Fox..... then and now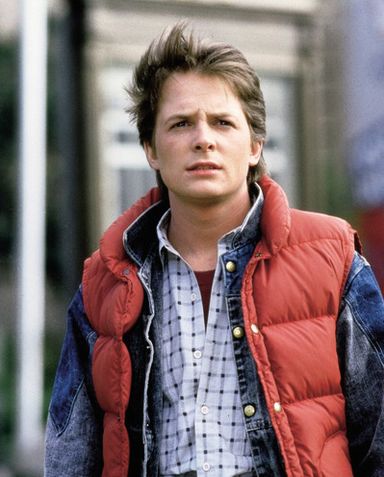 Philippines
August 7, 2007 10:03pm CST
dont tell me you didnt love BACK TO THE FUTURE? this is a wonderful movie that until now is fun watching it. do you still remember him? to those who have kids.... have you tried your kids to watch back to the future? now that he has Parkinson's disease and having a battle with it he is more inpirational than ever.
9 responses

• United States
8 Aug 07
omg i remeber watching him on family ties always fighting with valerie lol.but yea back to the future was a great family movie,and i give michael so much credit,he doesnt let his disease get the best of him,and he does just wonderful with the cameras,you hardly know he has it.hes a great inspiration to young and old.hope he keeps it up.

• Philippines
9 Aug 07
have you heard that a radio announcer was accusing him of faking it. that was really wacko. thanks for the response

• United States
9 Aug 07
no,i didnt hear that.thats so cruel if the radio station did that.how can they think someone could actually fake such a horrible condition.some radio stations can be so cruel.

• Philippines
9 Aug 07
yes they are really cruel. sometimes people from the radio stations thinks they know it all. just because they have this freedom to speak their minds.... sometimes they dont think anymore.


• Guangzhou, China
5 Jan 08
I have watched Back to the Future a few times. It is a nice movie, although it sounds old now. My son is still too little to understand it yet.

• Philippines
6 Jan 08
i hope if the right time comes your son will appreciate it too

• Pasig, Philippines
4 Jan 08
i do love that movie and also its sequels.those movies where the best for michael j. fox,i even have a collection of it from cd's to betamax tapes,vhs tapes and now dvd cd's.very original story and quite entertaining for young and old alike.

• Philippines
5 Jan 08
wow this only shows how you like the movie so much. thanks for the response

• Australia
23 Nov 07
hi there roniroxas yes i like the back to the future movies they are good movies did you know that my dads cousins wife is realted some how to m j fox i am not sure how but he is thanks for this discussion

• Philippines
4 Jan 08
a relative? wow that is soooooooo cool. thanks for the response

• United States
8 Aug 07
I watched him on Family Ties years ago and, of course saw Back to the Future and just about anything he has done. I watched when he was on West Wing and I am so sorry this disease has affected him the way it has. But what a great spokesperson for Parkinson's! My friend's father has it and it's so heartbreaking. I recently saw Michael J. Fox on a TV show and he seemed fine. He seems to have it under control - at least for the cameras - and he is an inspiration to me. I always think life is over if you find out you have a disease or affliction but he (among others) is proof that life isn't over. You fight and you overcome what you can and you accept what you can't. I love the guy!

• Philippines
9 Aug 07
yes isaw him also on a show a few nights ago, although he is trying to control it he is making it look like normal. any disease is not really eay but seiing someone who is trying to make a normal life is really very inspirational. thanks for the response

• Singapore
8 Aug 07
yeah! he's one of two short actors that I found to be cute when i was young. no prizes for guessing that tom cruise is the other. he has classically had wives that were taller than him. it was a shame that nicole kidman and him broke up though, i thought she was the epitome of class. katie just seems like a kid. Tom is less inspirational i must say.

• Philippines
9 Aug 07
ouch.... you really sound like a tom cruise fan. i hope you said more about michael than for tom.... lol. well thanks for the response

• United States
8 Aug 07
I loved back to the future, and so do my kids. I am so happy he really isn't letting the parkinson's desease keep him down. I mean it is taking it's toll on him, but it does not control his life. He does not ask for pitty. Thanks for the discussion.

• Philippines
9 Aug 07
yes that is what is so coll about him. i grew up watching him on tv and movies and now he is one of the very brave actors we have. very inspirational. i love him before and love him more now. thanks for the response


• United States
11 Jan 08
I saw the original when it first came out in the movies but I didn't see the two sequels until recently when they were on HBO and I watched all 3. I'd forgotten how good the first one was, in fact I think I appreciate it more now and the other two were really much better than many sequels are. Michael J. Fox truly is an inspiration. It was so sad when he left Spin City after his symptoms got too bad for him to do it anymore. Annie