t rained all night, flood afterwards

Philippines
August 8, 2007 12:29am CST
I was not able to come to the office this morning and arrived only after lunch because of the flood surrounding our street. Espana had a knee length flood. I decided not entering the office but get bored so i came.
3 responses

• Philippines
19 Sep 07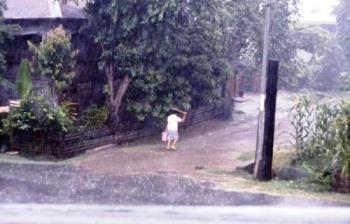 Rain is very important in our life. We should be very grateful if it rains. It seems that it only rains now if there is typhoon. Before, we feel the rainy season and it rains during the rainy season even without typhoon. It does no longer rain much and so we lack water.

• Philippines
17 Sep 07
Last Saturday also it was raining very hard in our place. And the sad part is because the water from outside got into our house. I was alone with my ten months old baby that time. I don't know that to do because the water first get into our kitchen and then to our sala and then into our rooms since our house is only one floor. I carried my child who was frightened because of the thunder and lightning. I hurriedly clear the things so that they will not get wet. It is so tiring to experience that heavy rain.

• Philippines
8 Aug 07
gosh, i hate rain so much but we need rain for the farmers plants..but i wish it could have rained slightly not so hard..enough to shower the fields..i have been hearing the news saying lots of cities and province are on flood now specially Cavite..its not that bad in my place but in San Fernando its been flooding too..i wish the dam will have its enough water to be filled and the fields..then maybe the rain can stop now for some cities affected could get back to normal..but i also heard in the news that the rain is not helping the dams..it just made it lessen the water as far as i heard..