what grapes do you prefer, red, green, black, purple or others?

United States
5 responses

• United States
8 Aug 07
I love red and purple grapes. When I was younger I ate a lot of wild grapes that grew around our house. They tended to be sweet but a bit bitter. I can no longer tolerate the bitterness of them.

• United States
8 Aug 07
The red ones always seem crisper. I dont know if its just me, but thats why I like them better.

• United States
9 Aug 07
I prefer others. To be honest I don't know anything about other kind of grapes, but I am rebel and I always like to try new colors....and I am wondering what kind is hiding behind "others"...

• United States
8 Aug 07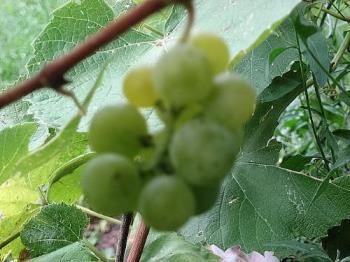 I prefer green grapes. I have a Kay Gray grapevine in my yard that I bought and planted late May and have a few clusters growing on it. Here's a shot of them. HAPPY POSTINGS FROM GRANDPA BOB!!~

• United States
8 Aug 07
wow, thats nice to have your own grapes growing....cold grapes are so good. I also like the fact the prices are reasonable.

• Philippines
19 Nov 07
i love grapes it's very juicy and delicious and good for our body. I love the green one the seedless one. easy to eat and very healthy for our body.

• United States
16 Nov 07
I love the green grapes the best. Especially when they're cold and crisp and slightly crunchy. They're so refreshing in the summer and so yummy if you put them in the freezer. It's like eating candy, but it's healthy!