Share The Facts of Movie 300 Here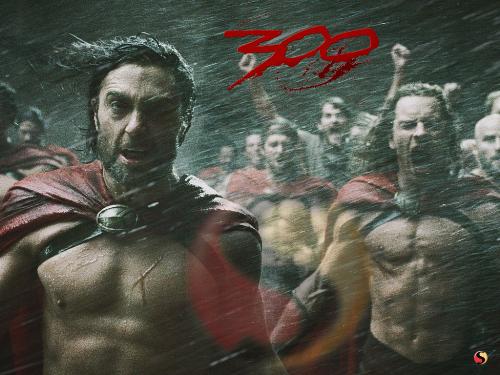 India
August 9, 2007 3:51pm CST
Friends did you know that all soldiers of sparta i'e 300 soldiers were trained in GYM for three months before their shot at the movie. And other fact about this movie the xerxie king looks so ugly in this movie but he is so DAMN.! good lookin handsome guy havin long hairs just like tom cruise in the movie mission impossible where as he is BALD in the movie..... And Damn i love this movie very much. If ur interestedin downloadin this movie jst download this link http://rapidshare.com/files/47996906/300.txt . Its a TXT file in which i've pasted other 8 links first seven r of 97.65 MB and the last one is of 8 MB. I've done this way coz it takes lot of time to write those 8 links since i'm not been given the facility to copy n paste. Enjoy........!
6 responses

• Philippines
24 Aug 07
yes the movie was wonderful and great, king leonidas was cast so wonderfully and all the cast were great, great battle scenes, I didnt like that the queen so give up easily for the promise that her husband would be given back up in battle against the persian army. the battle of thermopylae was a wonderful point of greek history. but did you know that here in the philippines we have a similar scenario in our history. the battle of tirad pass, sometimes referred to as the Philippine Thermopylae was a battle in the Philippine-American War fought on december 2,1899 in northern Luzon in the Philippines in which a 60-man Filipino rear guard commanded by one of our Philippine hero, brigadier general Gregorio del Pilar succumbed to 500 Americans of the 33rd infantry regiment while delaying the American advance to ensure the escape of Emilio Aguinaldo. if the greeks have 300, we, the filipinos have 60 in our battle of tirad pass. at about 0630 on december 2, the americans advanced up the trail and were met with a steady volley of fire, leading to several US casualties. the movie 300 was immortalized I hope the battle of tirad pass would be immortalized too.

• Philippines
16 Dec 07
Yup that's some history. I believe that the part where del Pilar got defeated is because someone a sympathizer relayed to the American forces of another route behind the general's position, therefore they were boxed in. But if without that "help" for the Americans, Tirad Pass would go down in history Philippine history as the one battle of david and goliath. Actually, there was an indie film made by Raymond Red about Tirad Pass. Competed internationally and I remember but not sure if it won first, 2nd,3rd prize or a special award.

• India
29 Aug 10
Well this is my favorite movie, but i think kids have 3 packs, is that some tricks but perfect body.

• India
2 Sep 08
300 is an absolutely terrific movie. the attitude, the valour the spartans display send a chill down my spine. so much to keep their honour. they challenged and even demured a person who projected himself as god. i think they were bogged down by the wrong priests who just had no respect for these warriors. my personal favorite line in the movie when the king says : SPARTANS NEVER RETREAT!!!!!!!!!!. the greatest sequence when the king as a young lad fights the beast and also , when he kicks the intruder into the well.. GREAT WORK BUDDY

• Philippines
16 Dec 07
So those muscles are for real!Or added some movie fx to give a more robust look? Xerxes was played by the same handsome sufer guy/ motocross rider in Charlie's Angel 2. But I agree, admiring their physique DAMN! They are all an awesome sight to behold. Here in the Philippines, we play a sport hobby called airsoft and we role play 300 modern style, although, not involving a thousand players. More of 6 defenders against 40+ opponents.

• United States
9 Aug 07
Yea you can check out their workout regimens on Youtube, there is several videos about it. Like thise one guy bench pressing, there is a video that explains everything they do and some examples from this one man, and a documentary type video that shows some "spartans" working out.