What do you think of this? Would you want one?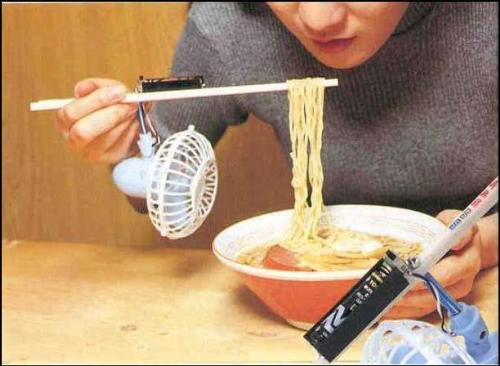 Philippines
August 11, 2007 1:17am CST
I like eating noodle soup there are lots of different flavors chicken, beef, pork, etc.. Its best to be taken freshly serve with chopsticks although its hot, we sometimes alomost alway gets our mouth burn. I stumbled upon this picture sent to me by my friend, how would you like one of these? What do you think of the idea? What's yours? Share it to us pls.:-)
3 responses


• Philippines
10 Sep 07
That's a funny pic alright. haha. I've been to Japan and the ramen shops where you see first hand how the Japanese eat their ramen. Freshly cooked and still VERY hot, they eat it and slurp it as if eating it at that instant was the darndest best time to eat it! No qualms about it being hot, they'd be over in just a few minutes, a big bowl of it. Me, I'll pick and blow the noodle till its proper enough to be taken inside the mouth. Better late than to get burn. :)

• Philippines
12 Aug 07
I like to eat noodle soup too, ramen I like very much. Yes its best and delicious eaten hot and I usually blow on it sip the soup then put it in my mouth and munch the noodles. :-) Nice idea no need to blow on it to cool it a little but kinda looks funny, lols. :)) I think they should've put a much more smaller or thinner fan on it.