What's your favorite Disney animated film?

United States
August 11, 2007 1:11pm CST
I'm sitting here watching the Aristocats with my son, and the question occurred to me. Aristocats has always been my favorite Disney animated film. I also love Nightmare Before Christmas, Hunchback of Notre Dame and The Rescuers. How about you, what's yours?
10 responses

• United States
15 Aug 07
Nightmare Before Christmas is definitely my favorite, but I also have this strange affection for The Little Mermaid. I think it's because my sisters used to watch it a lot, and some of the songs are just catchy. :)

• India
15 Aug 07
well my favourite disney animated film is "Cars" film which is about a racer car who find outs that the real joy in life in not just winning alone but caring and loving each other...

• United States
15 Aug 07
My favorite is probably Sleeping Beauty. I loved it even when I was little. I also like Lady and the Tramp and The Little Mermaid a lot. I'm also a big fan of the newer computer animation films like Monsters Inc. and Shrek. I love the adult factor that is included in these.


• United States
13 Aug 07
My all time favorite Disney Movie has got to be the Lion King. I watched that so much when it first came out, I knew every line!!! I begged my Great-Great Grandmother to take me to see it in the show, bought the video even though we didn't have a VCR, and went to the neighbors house to watch it constantly!!!

• Philippines
12 Aug 07
I love animated movies, especially the ones released by Walt Disney Pictures. If you'll ask me what's my fave one, I can't answer it. Since i love all of them.. When i was in high school I sang the theme song of the movies "Alladin", "Beauty & the Beast" and "The Little Mermaid". But when i was pregnant w/ my daughter, I asked for animated movies for my birthday, "Lilo and Stitch" and "Finding Nemo". I only fancied those movies, and i dunno why. That time, i loved watching Lilo, on how bubbly she was. And i cried while I was watching "Finding Nemo". I can't say "Finding Nemo" is my fave of all, but I can definitely say it's the most memorable one. Why? If you watched the movie, there's a part where the lady fish said "fabio instead of nemo" (the fish that had a short term memory loss), that moment my brother said we'll nickname my baby FABIO is it's a boy and if it's a girl FABIA. So now we call her FABIA..her nickname. *wink* LOL!! cheers! :D

• Canada
11 Aug 07
I loved The Rescuers, too. The Little Mermaid has been a perpetual favorite. Robin Hood, I'll probably adore until the day I die and I love Lady and the Tramp.

• United States
11 Aug 07
Wow, just one, huh? Can't do it! I love so many of them. Beauty and the Beast, Little Mermaid, Jungle Book, Lion King and Mulan. I guess I'll go with Finding Nemo. That's Disney, right?

• Romania
11 Aug 07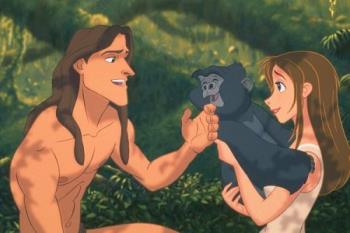 Oh... tough choice... I can't really make up my mind. There are so many Disney films that I just adore! "Beauty and the Beast", "Mulan", "The little mermaid", "Tarzan", "Hercules", and so on... Maybe, "Tarzan" would be my favorite, but only if I MUST choose one!