Does anyone know if this is true?

United States
August 11, 2007 2:06pm CST
Last week I was surfing the Internet and came across a very interesting article that suggested plastics may be responsible for causing certain types of cancer. I'm not sure if this is true or just speculation, but it's certainly a scary thought. Has anyone heard whether there is a link between breast cancer and plastics? Supposedly, it has something to do with a toxin that leaches from the plastics onto food. Or, is this just another one of those crazy rumors people start for their own entertainment? Would appreciate some feedback on this subject. Thanks!
7 responses

• Australia
11 Aug 07
I saw that as well, and I spoke to a friend of mine about it and she said their had been little rumours about this sort of thing for a long time, I guess it is possible, I have never liked food in plastic I know it goes off quicker than when it is in glass, I have have gotten rid of a lot of my plastic, I prefer not to take any chances and especially in the microwave as I think that is already a bit questionable in it self.

• India
13 Aug 07
Dear beautyqueen26, Today we are getting all sorts of food items in plastic bags. I also heared somewhere, sometime plastic responsible for certain diseases. I did not give much importance to that because in case plastic to harm to health, the Government and people would have not allowed to get the food packed in plastic. I feel that palstic is doing harm very very slowly to health. One thing we have to accept the fact that in case plastic even if it is going to harm the health very very slowly the scients would have warned the people about its health hazards. Since there was no news from Scientific world we can use the plastic without worry.

• United States
12 Aug 07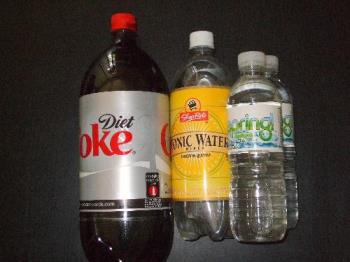 I saw this report on the local news a week or two ago:http://cbs3.com/health/local_story_220181314.html The TV report was more detailed. It mentioned the dangers from microwaving in plastic, plus bottled water, soda, etc. Just another massive experiment with our whole society as lab rats, brought to you by Corporate America. Kinda makes you wonder what we pay the FDA for, doesn't it? Isn't life wonderful?

• Australia
11 Aug 07
yes i have always believed this to be true, i try not to use plastic at all my kids don't drink or eat out of it, if they break a plate or cup so what. we store all our food in glass jars as well, but the only time i do use it is when i may use plastic wrap to store in the fridge and i also know this isn't that great for you either

• Mauritius
11 Aug 07
Well I've heard that some kind of woods can cause cancer but not plastics. I will try to find more about this coz this is a very serious matter as our living environment contains mostly plastics based materials from kitchen utensils to furniture. Its indeed very scary.