Today we went to the home where my husband grew up and we raised our children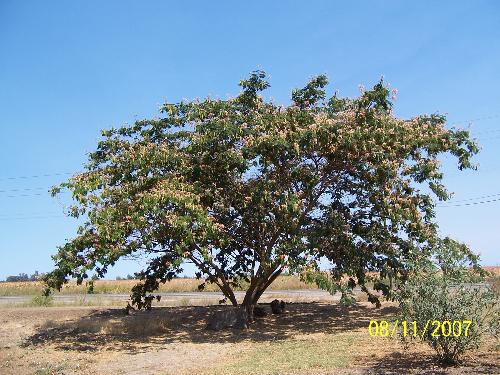 United States
August 11, 2007 9:08pm CST
We went out to the ranch where we raised our children and my husband grew up. We moved out almost three years ago. The house we lived in is old and falling down, it was built 50 years ago with no insulation in the attic. The windows are original and leak air like mad. I swear I lived in a wind tunnel. We suffered so in the summer it was so hot. We only had a swamp cooler, that when it gets above 95 degrees F. the water cooler did not work except make the air sticky. The photo is of a chinaberry tree that was a volunteer, which grew in a planter at my Granny's home. She cut it off several times and it kept coming back so she gave it to us. We planted it, my husband tried to kill it once, of coarse by accident, he says. Now the tree is such a great shade tree. It has these big seedpods and beautiful flowers. I would not have that type of tree around my pool it would make such a mess.
3 responses

• India
12 Aug 07
Yes, it happens like that and feels like that, all our old memories raise heads once we are at the place where we used to be earlier. I have the experience, i am in the different city after marriage,but when i go to my home town,i remember how we used to play hide and seek and all those other games.I feel like I have become child again and the scenes pass by my eyes.

• United States
13 Aug 07
I was raised in Yosemite National Park and I have not gone home for years. I live two hours from there, but I do not drive so I have not gone up there. I guess I need to bite the bullet and just take the bus up and go home for a day.

• United States
14 Aug 07
Ah--there's that old saying, you can never go home again...Now I've lived in my present apartment for a very long time..my mother, grandmother and I all moved here in 1961--yeesh, 46 years ago, but prior to that we lived in my great-grandmother's apartment...That apartment was a beauty and so much bigger....but oh, what a sad change. Not that, that long ago, I went over to her neighborhood --I remember it being beautiful-now?? OMG...it looks like a slum area--It was just to sad--and I suppose one day, when I move from here (and I do plan to eventually) maybe I'll come back here and the same drastic change will be here as well.

• United States
14 Aug 07
I think you are probably right, I wonder if your mom and Grandmomther moved you to where you live now because they could see what was happening to the neighborhood?

• United States
13 Aug 07
It isn't the type of tree that I would want to have near a pool, but it does look like a beautiful tree. Anyway, I think that it is neat that you went back to the house after so long. I have revisited our old homes after a few years as well, and they are never quite the same as we remembered them.

• United States
14 Aug 07
No it is starting to show that it getting worn down from lack of being lived in.