What's on your shower curtain?

United States
August 12, 2007 12:35pm CST
My shower curtain is just the plain variety. It doesn't have fancy designs, but it serves a purpose very nicely. If I had my way though, I'd purchase a shower curtain with sunflowers all over it. Of course, my spouse would have a mini-fit. He doesn't like things to look too feminine around the house. But, I think I'd still like it. I don't like things too ornate in that bath area. Bath time is supposed to be fun after all, not serious. Once I saw a shower curtains with a giant dolphin on it, but I think that would just scare my toddler. She's never seen a dolphin and would just end up calling it a dog. So, what's on your shower curtain? Do you have a shower curtain with lots of designs? Or, is your shower curtain plain? What would your dream shower curtain look like?
8 responses

• United States
12 Aug 07
Right now, I have a plain dark blue shower curtain, but for a while I had one with Rafael's angels on it. That one was really neat and let a lot more light into the shower. Next time, I buy one, I might try and find something artistic again. Or at least with a pattern. The blue is boring, even though it matches my towels and rugs.

• United States
15 Oct 07
HELLO there Queen,I have a tropical theme goin on in my bathroom..I have the tropical island and water around..with dolphins swimming around..I love it!! ohh and has the sunset as well./.thats my coconut island i go to when im stressed out in my mind..so why not have a theme to relax when bathing? I also have wonderful little tropical bottles and ocean knick knacks everywhere..im gonan get some ive next next and hang it all over the room..lol..Awwww..ID LOVE TO LIVE THEER IN MY LITTLE COCONIT ISLAND..

• United States
14 Oct 07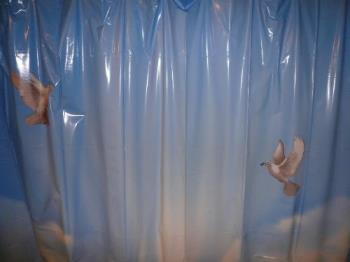 My shower curtain has birds on it and a lot of blue. My roommate just bought a new shower curtain and since he knows I like birds he got one that has birds on it. It looks very nice. My other choice would have been a Eagles curtain but this will do. Here is a picture of the new shower curtain.

• United States
14 Aug 07
Our shower curtain on the main bathroom is striped with different shades of blue. Our master bathroom doesn't have a shower curtain but a shower door. I like bright colors and ones with sea animals on them LOL

• United States
14 Aug 07
I have a Thomas the Tank Engine shower curtain in my bathroom. lol Can you tell I have a toddler son? We have a matching trash can, soap dispenser and toothbrush holder, too. When we bought the stuff, we were thinking he was going to have his own bathroom, but then we decided to buy a house with just 1.5 bathrooms instead. So we have his Thomas stuff in the bathroom that we all use most of the time.

• United States
13 Aug 07
: ) I'd get the sunflower one anyway! It's your house too…. My shower curtain is not a curtain- it's a glass door- Hate it! Can't wait to rip out the shower and put in a Jacuzzi tub and shower- then I'm switching back to a shower curtain- We had rubber duckies at the place we rented- it was great! My daughter wants butterflies- I like sunflowers- or frogs- and my sig. other would choose tractors-