Psychics...Are some real or are they all con artists?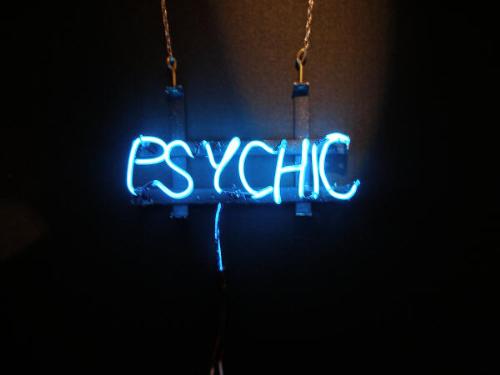 United States
August 13, 2007 2:02am CST
I once had a reading done by a psychic who was surprisingly good at what she did. Recently, I watched an episode of Criss Angel Mindfreak where he did five psychic readings for five strangers and said the exact same thing to each person and they all said he was right on and they were blown away by how much he "knew" about them when, in fact, he knew nothing. After seeing that, I wondered, are all psychics just good at making general statements and conning us into believing they have a gift or are there real ones out there who truly do feel and know things? What do you think? Any stories to share?
9 responses

• United States
13 Aug 07
I'll probably step on a few toes here and I apologize in advance if I do, but here goes. I believe that there are people who are very intuitive, whether they are naturally intuitive or whether they are educated in human psychology or whether they are just keen observers of human nature. If you've ever watched someone like Derrin Brown and listened carefully, he relies a lot on the power of suggestion. He's very good at it and it seems that what he's doing is absolutely amazing but it is nothing more than a little applied psychology. John Edwards well... if you watch him most of what he does is pure guesswork. Once he hits on something that someone can relate to, then he keenly observes body language and reaction. Most of what he says virtually anyone can relate to their own lives or the life of someone close to them. The people themselves give him clues in the right direction by answering his questions and covers his tracks by saying.. only give me a yes or no, don't tell me anything extra. Well, he's already got what he needs to make a good guess. I mean honestly, I just cannot believe that out of all the people in the world who consider themselves psychic that not ONE would give into the temptation of picking winning lottery numbers or giving up the exact wearabouts of bin Laden. When someone will go on live TV, tell all 6 winning lottery numbers for the following week's drawing, and those numbers ALL come up, then I will believe in psychic ability, I will kiss their bare behind in the middle of Main St. at noon and beg their forgiveness for doubting them. I whole-heartedly believe that my dignity will remain intact. I have no doubt that some people genuinely believe they have a special ability and that's fine, I'm not going to condemn anyone for their beliefs or try to take their business away from them. Perhaps they are correct and I just haven't seen or heard a true psychic, I'm open-minded enough to be open to the possibility. There are a lot of things that can't be explained ... yet.


• United States
13 Aug 07
Well, I think there's a mix out there of flat out con artists and mediums who are convinced they have "the gift". For the most part though, I think they are like the daily horoscope, combining a lot of vague generalities with just enough specifics to convince people they know what they are talking about. As a Christian, I think people professing to see into the future have to be 100% accurate 100% of the time to be able to claim to be "from God". Otherwise, I believe this and all other forms of the "dark magic arts" are fueled by Satan, who specializes in telling half-truths and lies and making them sound like the truth. Don't get me wrong, I'm not saying all psychics are devil worshipers. Another thing Satan specializes in is using people who don't know he's using them to think they are actually acting for the greater good. So, if you want to test out that psychic the minute you walk through the door, when they ask your name, reply, "Hey! You're the psychic! You tell me!" :)

• United States
13 Aug 07
LOL. I know. Why ask when they should already know? I do think some people may be more sensitive to some things - maybe body language, analyzing people's personalities, etc. - but flat out knowing the future really seems...far fetched. I haven't seen proof yet but always am on the look out!

• India
13 Aug 07
i think they are in real.....

• United States
13 Aug 07
You think all psychics are real or just some?

• United States
14 Aug 07
I believe there are some people that are truly gifted. But I also believe that there are far more that are fakes and just want to take your money. And it is very difficult to tell which is which.

• United States
13 Aug 07
Hi Patty...yep...it's me again. I had the good fortune to grow up near (and meet several times through a mutual friend) Greta Alexander. She was a local parapsychologist (psychic) that gained national attention. There were several reports of her lack of true abilities...but, I witnessed too many times the true extent of her sight. Was she 100% right all of the time? No. But, there was enough that I had no doubt in my mind that she was capable of "seeing" things beyond the norm. She assisted the police (in several states) in locating missing persons. With that said...do I believe all self proclaimed psychics are genuine. Not a chance. In fact I would say most are scam artists preying on peoples grief and out to make a fast buck. People are quick to dismiss a parapsychologist because they don't always have the right answers. Does anyone? If you want real personal accounts...email me. Julie

• Philippines
14 Aug 07
i watch TV about india culture they have this Nadi reader, they read your future tell your name your family member name everything, they suprisingly know you ,even if it is your first time to come to there country to seek some problem.

• Philippines
14 Aug 07

That's exactly how it works. A long time ago I read an article written by someone who used to work as a "telephone psychic". She had to quit the job because it was all bull and she couldn't stand fooling people any longer. She explained that this is how it works: Most people have money problems and most people have problems with their love life. So if you tell someone "You have a financial problem" or "You're having problems with your love life", chances are, that person will say "Wow you're amazing! How did you know?" I also have a friend who's a reader of tarot cards. I was quite impressed until he explained to me that there's no science to it. You just take a look at a card and say the first thing that comes to your mind.

• United States
14 Aug 07
There will always be people who will buy into the psychic thing. Although I have had a couple of Tarot Card readings, I have never been to a psychic or paid for any services. I believe that if you are using the service purely for entertainment it is okay.