Have you smile today?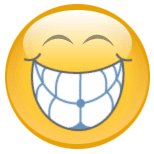 China
8 responses

• India
23 Aug 07
hi fikiabc,yes i smiled today..what a lovely question i must say..i love to be happy and most of us also want that..so you went to shopping..thats good..i also want to go to shop sometimes but busy with my studies as i have a big exam after 3 months..well i appreciate sense of humor of people and i also like to read and listen to jokes..i mean i find ways to keep myself happy even if i am feeling sad at some time..keep smiling:-)

• China
24 Aug 07
you like shopping too.oh it is good ,but be care of you wallet , not having strolled aroud the street once,returning discovering money true few have starved many,have often have asked self money that which goes to,you have examination,have made great efforts to come on!! Have supported your,our to only want the baginning of the term,still have had a few days, have a nice day ,smile every day !!

• India
25 Aug 07
heyyy thanks for the BR friend..you added one more smile(big) on my face..thank you and same to you:-)


• India
21 Aug 07
Yes. I have smiled today. :) .. See even now I am smiling ... :).. Smile is like an apple. An apple a day keeps Doctor away. A simple Smile in your face also will keep the Doctor away from you. Its is the natural gift given to man to keep him away from all the bad things of the world.



• China
23 Aug 07
yes ,every one has different way making us happy,so have a good day every day.now i no happy ,because of on the way accepts strike,turn in amatory very grieved ,i all have had no MYLOT,because of state of mind is not good and go to bed very for long time yesterday.how can i deal with my love .

• Indonesia
14 Aug 07
i'm always smiling..because it makes me feel happy and i'm happy if people happy because of my smiling.everyday i smile..specially when my crusher come. then i have a good reason why do i have to smile.. cheersss... =)

• Malaysia
14 Aug 07
ooh..no..man!!! you're lucky 'coz got time for that. I'm always bz with my friends here on myLot planet. They don't want me to take leave or butts off. Just with a cup of coffee and some beans to eat and we continue chatting and never stop. Enjoy your day, friend.

• Malaysia
29 Aug 07
It's good to endulge ourselves sometimes and having happy moments with friends. If you happen to have sweet memory of the day, you might even smile in your dream :) I do have few happy moments recently, one of it owning a brand new cell phone. Although it's not the latest model, but I like it very much and there are lot of feature to be learnt because I was switching from a black and white phone to a 3G phone model (a great jump).

• Malaysia
29 Aug 07
For me I like to begin every of my day to be a happy day so when I wake up I don't straight away leave my bed. I like lying on my bed and try to recall any stuffs, jokes and stories that are funny and ridiculous so as to make me laugh. By doing this I can always start my day in a happier mood with more energy and refreshment. This could enable me to do things smoothly and efficiently.