does your daughter always wear dresses and try to wear them to bed?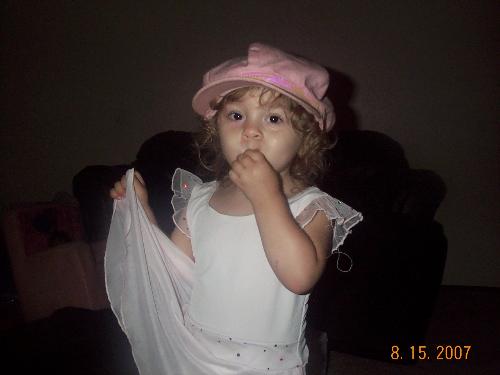 United States
August 15, 2007 7:35am CST
my daughter is always wearing a dress,and she gets so upset when i have to take them off to go to bed.it got to the point where i had to buy her pajamas that look like a princess dress.she is so girly which i think is great,but the temper tantrums she throws when i have to take the dress off,is horrible.does your daughter or nieces,or grand daughter do this too.
5 responses

• United States
15 Aug 07
I wish! I can barely get my girls to wear dresses as they like the jeans and tee shirts. They both would rather be in the woods on a four wheeler than to be in dresses and look like a princess. Dresses are for church is what my youngest one says and I guess she is right in her case.

• United States
15 Aug 07
i guess what ever makes them feel more comfortable right.i know when i was young i loved to wear dresses too but i liked doing boy stuff also.sometimes it was more fun.thanks

• United States
18 Aug 07
When my daughter was young she liked to were dresses and skirts. I use to buy her one outfit from the disney store a year. I bought her a tikerbell night gown that she loved. I did not have a problem though with her taking them off. She was very good giving it up so that I could get it washed. I told her that she needed to let me get it cleaned so that it will last longer. However, my daughter is now sixteen and she doesn't want to wear a dress at all. I wish you luck with this small problem. Just don't be surprised if when she gets older she no longer wants to wear a dress at all for any reason. Good luck with your problem. Your daughter sounds so cute though.

• United States
18 Aug 07
thanks,i guess they all change when they get older lol,well i guess time will tell.

• United States
15 Aug 07
I don't have any kids yet, but I have a friend who has a little girl, and she always wants to wear a dress. Not just any dress, though, the same dress, every day. While I will admit that it's a lovely dress, it's just crazy how much she loves this thing. I haven't seen her in a while, and she may have grown out of it by now, but I swear that every picture I saw of her, and every time I saw her in person, it was always the same dress. :)

• United States
15 Aug 07
she most of loved that dress alot lol.i have a few pics of my daughter and some of them are the same dress.she just prefers certain ones.some girls do that i guess.

• United States
15 Aug 07
I can't do anything to get my 9 year old daughter to wear a dress. She is going through a self proclaimed tomboy phase at the moment and wears a lot of jeans, sweats and sports type shirts. Sh'es not too much of a tomboy though to not want to ger her nails painted every week....lol

• United States
15 Aug 07
shes girly in her own way,and somtimes jeans and tees are more comfortable.i myself prefer them too.thanks for comment,take care.

• Philippines
15 Aug 07
i dont have a daughter yet but i remember my self to your kid. i want to go to bed with my dress. i even ask for my mom's old dresses to wear it at home. maybe she notices it that's why she brought me 3 dress for me to wear in bed. it is more comfortable for me to sleep than my pajamas ^_^

• United States
15 Aug 07
thats cute,i use to wear my moms clothes all the time,i thought her dresses were so pretty,even though they never fit me,i still pranced around in them.thanks