Who is the person you hate most on this world and why?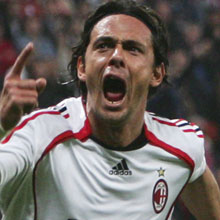 Bulgaria
August 15, 2007 9:13am CST
Let's all say who do we hate or dislike most on this world - this may be a popular football star, or a movie character, or - on the other site - this could be your sister who always talks too much, or your teacher, who looks at you in a sever manner. And - tells us why - what's the cause of your dislike or hatred? I'll start first. I hate several football players 1. Pipo Inzaghi - first of all he plays for the nasty "Milan" suqad, then - he is a terrible player who can't pass a proper ball at 10 meters distance, but nevertheless scores important goals by using one of his foot-branches:) And in the end - but most - because of the nasty grimase he makes every time he scores a goal. 2. Samuel Eto'o - he used to play for "Real", and later went to Barcelona - well this happens often. BUt he always plays against real as if this is his last mach - a question of death and life.HE insults "real" every time he is able to by speaking super nasty things about it. 3. Materazzi - the tree-looking italian defender who provoked Zidane at the final of the world club last year. Because of him a tremendous player like Zidane ended his career in a terrible way. Materazzi is famous for the number of scandals and injuries he caused. And in the end - my ex-girl friend - a stupid creature - full of hatred, hypocricy, jealousy, and selfishness - a sum of everything worse in this world:))) (of course I was more stupid to date her, but that's another question,haha) So, this is from me. Now - tell us what do you hate, tell us your reasons - we'll probably agree you, but who knows??
1 response


• Bulgaria
15 Aug 07
well well well - we have a very "saint" person down here :) welcome! YOu have an interesting position. I wish you all the best. And please don't forget that we may hate the evil in every human being, because it is not from God. But this is a question of another discussion. HEre - we want people to share their normal HUMAN feelings, because deniing your human nature is an act of disrespect to GOd as well, isn't it? So - if you have what to say on this topic - please do so! I f not - have a nice day!