i adore cats!!!!!

7 responses

•
22 Nov 08
I like cats a lot as well, I can't wait to move house in a few months so that I can finally have one. I've looked after strays in the past, but always had to hide them from landlords! I love the silly things that they do. Lolcats are really funny as well, if I'm having a bad day, I always just go to Icanhascheezburger and sit and laugh at the lolcats for a while.

• United States
22 Nov 08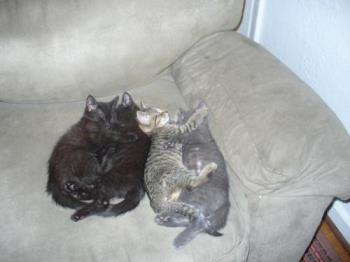 Hello

I just adore cats! They are so cool and fun! Mine all are so unique and silly . I have 7 of them I had to cats and then they had babies and I kept all 4 of them . I also have an older cat who will be 20 soon . she is crazy and does not show her age at all and she loves food and will do anything to get it . Here I will find a cat pic for you;)

• Philippines
22 Nov 08
Hello. Like you, I also adore cats. I have cats as pets when I was young up until now. Cats are very playful and very affectionate.


• Philippines
16 Aug 07
i love cats also, i have many at home. I love them when they start incircling their tale on my legs, like they are greeting you hello. They like warm environment, so when they are sleepy you will noticed they are besides you when you are sleeping. I also love to play with them,and i am sure they will love if you play with them.

• Canada
15 Aug 07
I adore cats too I cuddle with mine just before I fall asleep he gives me his love and cuddles and purrs love it when a cat purrs is such a calming sound...

• United States
15 Aug 07
We have a 10 week old kitten named Maggie May. She is just so cute and cuddly. We love watching her and tye puppy chase each other and wrestle.