Lifelike Statues Downtown

United States
August 15, 2007 5:27pm CST
Someone had a pretty good idea earlier this year and the city decided to place full-sized statues of people interacting in daily activities throughout our downtown area. I have been downtown two or three times since they've been there and they look so lifelike that it causes you do do a double take, lol. There are children playing, children arguing over an ice cream cone, a lady walking her dog, etc. This was a positive move on behalf of a city that has been plagued with bad press in regards to the downtown area. Has your city done something to draw visitors to its downtown?
5 responses


• United States
16 Aug 07
I agree on that, Aurone. I think that when a downtown area starts to decline it takes away the desire in people to attend events there. Our city has been struggling to restore the downtown area to its former glory days before many of the stores and the food court left.

• United States
15 Aug 07
That sounds like a good idea. We just have the same stuff as always...horse and buggy rides, pretty lights, the canal, and whatever goes along with whatever festivities are going on at the time. Before reading this all the way through I thought you were talking about a statue that was actually a man. I saw one of these in Atlantic City last month. It wsa pretty neat. He looked just like a statue. His clothes, and skin were a metallic silver and he was wearing sunglasses. I was convinced...lol.

• United States
16 Aug 07
I guess that was a shock, pamcake. No, the statues I am speaking of are built to scale and they do look incredibly real.

• United States
23 Aug 07
We have a mural on the wall downtown with a nice little park in front. The mural is the town years ago.

• United States
23 Aug 07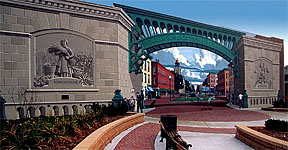 here is a picture to go with it, this is only part of it

• United States
18 Aug 07
This sounds neat!! If you ever get the chance to send photos, I'd love to see them. I'd like to see some of ppl doing old fashioned things too. I think that would be neat to see too. We have alot of tourists here too b/c we have alot of riverways around here. It's not too bad most the time but sometimes in the summer it can be annoying. AT PEACE WITHIN

•
16 Aug 07
They have made a lot of our city in to pedestrian only streets , this is good and it looks so nice with the seats and flowers , we have a lot of history around Stirling though and that is the main reason we get so many foreign visitors , it really sounds nice though what they have done to yours psl xx