If the draft came back...

United States
August 15, 2007 7:20pm CST
Today, I was reading an article on Slate about the possibility of the draft coming back. I am not sure if I am for the return of a military draft or not. There are economic reasons to figure it, even if it is only in the terms of job creation. Yet on the other hand, there is that sticky issue of taxes. There is also that big question--should the Unitied States be the World's Policemen? I can see several situations that could require military force; knock on wood, hopefully they don't come to that. With a brother-in-law in Iraq, and having joined the military for a really brief time myself, I not necessarily opposed to it. Of course, there is the fact that I am probably well past draft age and have no special skills that military would be hunting for, so even if it happened I would be sitting home. So, I don't know. I am not sure if we should be entertaining the notion or not. What do you think? Does the United States need to bring back the draft? Should we be the world's policemen? http://www.slate.com/id/2172225/?GT1=10346
2 responses

• United States
16 Aug 07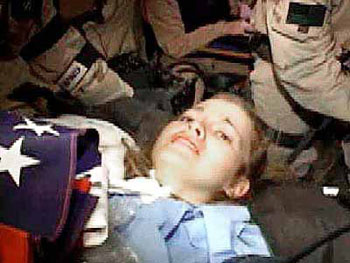 Morgandrake, You asked a question that I have debated with mothers about often the past several years; especially mothers whose sons/daughters are in the military. I don't know if you remember the young woman, Jessica Lynch, the first woman POW captured at the beginning of the war. Jessica comes from a very tiny town about 1/2 hour away from the city where I live. Her town does not have any economic opportunity at all. When asked why she joined the military her response was, "I wanted to get an education so I could be a teacher." She knew that her family could not afford to send her to college and the military was the only way she could get that so-needed education. Frankly and sadly I fear that the days of Patriotism have all but seen the past. Too many in this county are ashamed of the way this country is now conducting business. We used to be the "example", the country that all other peoples in other countries aspired to be. That is no longer the case. As for my views on reinstating the Draft, I take the unpopular stance of saying, "YES", bring it back! Make it more equal. If more sons and daughters of influential people were serving overseas, I sincerely believe it would have not taken this long for this war to have ended. Have you watched the commercials on TV where the young men (I've not seen one about any young women) walk into their homes and tell their moms that they have made a decision....it's time for them to do something constructive with their lives....they want to learn a trade....they have joined the Army. NONE of these commercials say, "Hey Mom, Hey Dad, I was just at the Recruiter's Office and was overcome by my need to serve the United States in fighting a war, so I enlisted." I do believe that is how it used to be. At least that is what I grew up hearing. My own son is no longer alive; but if he was and he got drafted, I would be like any other mother. I would be terrified. I might urge him to head for Canada, I don't know. But ultimately I know I would respect whatever his decision was. My heart is heavy, however, knowing that the poor, the poor ethnic minorities, and women feel that enlistment is the only way that fighting for the government is the only way they can get an education with any subsidy from our government. Something is wrong with this system.~Donna

• United States
16 Aug 07
In theory, you should be able to get as much aid as the military offers from other programs. In practice, it doesn't happen. For instance, I live in Colorado which is at the bottom of the barrel for aid--three years ago we were 48th in terms of aid given to students. I have been unemployed for three years (and avoided going to college before that because I couldn't afford to) and I have not recieved a single dime of aid. In my forties, I am digging myself a hole taking out loans to pay for college, just because I can't get a job without a piece of paper. So it is really sad that the system is set up the way it is. I know in England, Prince Henry wanted to serve with his unit in the Middle East. Something I can't imagine happening here in the States. Heck, we are led by someone rumored to have had strings pulled so he could avoid getting shot at. Yes, there is definitely something wrong with the system.

• Tonga
16 Aug 07
As an american , i hope not. our country needs to survive in it's strength of character, not strength of bullying. I am now sent abroad. i have carried the word of god overseas for 15 years now and have never wavered in my believe in the people of the United States of America. God bless