Taking photos at a Rodeo...have you ever been to one?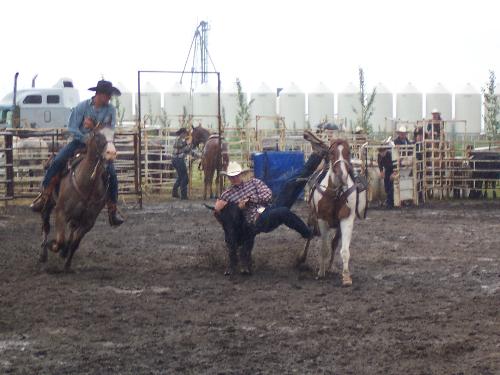 Canada
August 16, 2007 12:58am CST
A couple of weeks ago my hubby and I went to cover a news story for a local paper. In this case it was not a wrriting assignment..but a photography shoot. We had never been to a rodeo before and it was most enjoyable. This one was organized by the Heartland Group in Manitoba. It is a rodeo that features opportunities for young children to come in as pee-wees and stay with the rodeo as long as they want. They have events for all ages...and the sights, sounds...and yes smells created a great afternoon event. This organization is very concerned about the health and well being of all the animals and you can tell the way they prance and show off that they are healthy and strong. Just one of the many reasons I love my job as a journalist and free lance writer...always new adventures to photograph and write about!So for anyone who has never been to one..that was my experience. Is there anyone else out there who had rodeo experience and might light to share it with others. If you have never been to a rodeo...would you like to attend...and why.
9 responses

• United States
16 Aug 07
Oh I love rodeos! Been going to them since I was real little. MOstly like the bull riders and the clowns . The clowns have to be very careful not to get hooked by the bulls or kicked by the horses. Ya might think the clowns are dumb and funny . there is a lot of work into being a rodeo clown, Hard work also in being a rider they have to practice at it all the time also watch out they dont get mashed in the shuts. was at a rodeo in Slat Lake City Utah once and the feller got smashed in the shut before they opened the gate the horse just kept raring up and falling against the rails. When they fianlly got the gate open and the horse out the feller just lay there they took him to the hospital later we found he had some broken bones but would be ok. Dont know if you have ever heard of Rex Allen and his horse Koko they used to preform at rodeos years ago and was amazing to see what Rex had Koko do . I also went behind the scene to met and shake hands with Rex oh what fun that was and Koko wa so beautiful got to pet him too. So glad you got to do that expeirence nothing like it in the world. Now its hard for me to get to a rodeo or a bull riding event for they have them wehre they have so much traffic no one here wants to go. I miss the rodeos

• Canada
16 Aug 07
Wow...you sound like an experienced Rodeo gal. Your points about the risks...and the training for clowns is a good one...and true from what I have seen and read. From the riders I spoke to they say the rodeo life gets in their blood and they love it...even after being hurt they come back again and again. I vaguely remember hearing abour Rex Allan. It must have been great fun to meet him and pet his horse. And yes, we did enjoy it and will probably find others to attend. In Canada there are a lot of smaller towns...and in our area I know of three or four rodoes within about an hour from where we live. So yep...it will be something we will make a point of attending again. Sorry you can't attend the way you used to. Maybe something will change and you will find a way to turn your grandaughter into a rodeo-loving gal just like you!

• United States
17 Aug 07
ya got to find away to get to the Calgory one my dad told me it was the best I just havent got to that point in Canada and would love to the best I have done is the one in Cheyenne Wyoming/. If I had had a hose to train I would have done the barrel races. also would have liked to do the bronco busting but as I was a girl I couldnt. I dont know if you get the western channel up there thru encore TV but sometimes the show some of Rex Allens moviesabout once a year they arent on him right now . Some where I have photos of a rodeo in Spanish Fork Utah was the last one we did with the kids and Last time me and hubby went was about 10 miles on the other side of Delta Utah back in 1990s and really the smallertowns are realy good to go to they put on a great show. I used to march in a parade with the schools in Utah to get ticket5s to the rodeos free. I was A majorette

• Canada
17 Aug 07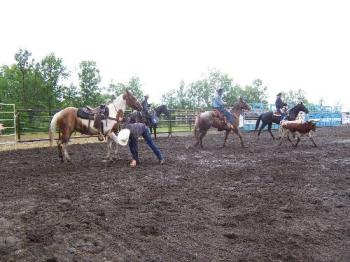 Goodness as I have said Lakota you should be writing your life story...you have so many fascinating things to share. Your comments about the Calgary Stampede...and wanting to go there. Maybe we will meet in the middle sometime...we seem to have increasingly more things we both like to do. Seeing as you miss the rodeos...I posted another photo..just for you. It must have been great fun for you to be a majorette in the parade..and then have a chance to go to the rodeo afterwards. No wonder you have a passion for them. Thanks for adding more information to the discussion..I am sure other readers will enjoy hearing about your experiences too! I am signing off shortly...so sleep well...wrapped up in the love and light of those angel wings...and your sweet hubby's presence to guard you while you sleep. Blessings dear friend.


• United States
16 Aug 07
I went to a rodeo with my family when we were on vacation in Montana 30+ years ago. I loved the barrel races and some of the other equestrian events. But I was absolutely sickened by the bronco busting and bull riding events. I spent a majority of that day crying for those poor horses and bulls with huge scars along their sides from being gored by spurs. Then watching a bull riding event and one of the bulls thrashed so violently he broke his own leg.. it was so horrific. Of course this was before animal rights were much of an issue. But I just could never bring myself to watch another rodeo. Sorry, I don't mean to put a damper on your fun and I know things are a bit different today but I don't think I could watch another rodeo without those old images running thru my head. It was an extremely traumatic event for me. I'm glad the one you went to the organization was concerned for the well being of the animals. Things have improved over the years. In that case it would be very exciting and fun for kids and adults alike. I do remember the atmosphere was fun and positively electric. But as far as animal shows go, I'm limited to the county fairs where the biggest hog and prettiest sheep gets the prize! LOL

• Canada
16 Aug 07
Greetings again.. Sorry to hear about the traumatic response to your rodeo experience as a child. Yes, things were certainly less humane than they are today. And no, you didn't put a damper on my fun at this rodeo...and that was why I made a point of addressing animal rights concerns. My love of animals is also encompassing...and there is on-going concern for how things are going for them in all situations today. I watched all the events very carefully and was taking a 'read' on how they appeared to be responding. While interviewing many of the owners and the head of the association they continually reitereated that the animals are part of this rodeo's 'family' and they recognize that without proper care and respect for their well-being there wouldn't be a show. So I know it was as much good business as humanity...but they did see to thrive in their environments and enjoy their 'work.' Your comments and additions to any topic always enrich it and I am glad you continue to participate in perspectives forums.

• Australia
16 Aug 07
We always used to go to the rodeos when we were growing up, I havnt been to one in many years though..It was a great environment and entertainment everywhere..But I have seen a dark side also, the cruelty of animals and how they try and hide it..

• Canada
18 Aug 07
Maybe you have a point...about them trying to hide it. This was my first event and I did not see anything like that..but if you've had more experience with the rodeo circuit I would not be so deluded to think the cruelty doesn't exist. Maybe the entertainment factor overshadows the dark side you mention. Thanks for bringing that point to the discussion...I like all perspectives here.

•
16 Aug 07
As a Brit I have never been to rodeo but I have seen plenty portrayed on TV and they look quite exciting. If I ever get the chance to visit America it would certainly be something I would like to experience - if only because it is one of those images that is always presented of rural America.

• Canada
18 Aug 07
Well if you ever head out our way...send me an e-mail. There are lots of them in Central and Western Canada. The Calgary Stampede is a great one I've been told. The one in the photo was on a much smaller scale than some of the larger events..but it was an interesting experience. It was good for me to know that they animals appeared to be happy and well cared for too!

• New Zealand
16 Aug 07
Hi. Here in our little town, we've had 3 rodeos, and all three rodeos have been a blast... We love goinging, we take our children as well, they enjoy it. We also take us two big chilli bins full of food and drinks/water, so theres no need to spend money on food... We always enjoy the rodeo when the circuit comes here once a year...

• Canada
16 Aug 07
This is the reason I wanted to post this discussion..I wanted to hear about how other Mylotter's experiences around the rodeo were. It is working...and I appreciate your sharings...I bet your children have a blast. Sounds like an event the whole family enjoys. That was the atmosphere at the one we attended too...a special family outing!

• United States
16 Aug 07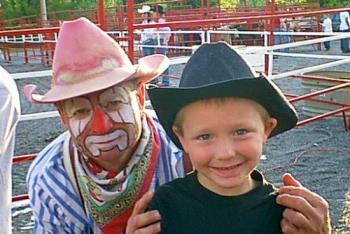 Our Strawberry Festival every years has a rodeo come in. We went last year and enjoyed it very much. I grew up on a farm, and we had horses, cattle, chickens, etc. but my kids have never been close to the bigger animals. My son had a blast and the rodeo clown was great! I have heard people say the animals are mistreated, but from what I have seen over the years, rodeo animals are always in well taken care of condition. If they don't have their livestock, then they wouldn't have a rodeo to run. I attached a photo I took of my son and rodeo clown.

• Canada
16 Aug 07
Thank you for adding your experiences to the topic and for including such a delightful picture. Your son has a true 'happy face' grin as he and the clown pose together. I was going to post a comment...but the friends thing got in the way...but I do appreciate seeing it and I am sure others will too! I agree with you about the quality care the livestock appreared to receive. After they would do an event...they had a 'happy little trot' as they went back to their pens. When the riders missed...they looked over their shoulder with a kind of 'ha-ha!...you missed look' that was quite enchanting. The organizers and participants told me that the animals love the training and truly seem to enjoy their 'work.' One fellow said that there is a bemusing dynamic between riders and the animals that is constantly in play...who is winning...the animals or the participants? So it was my first rodeo...but I think it is something I will attend again. My hubby and I enjoyed it the way it sounds like your family does.

• Canada
18 Aug 07
Rodeos these days neat...they are not what you would expect after talking to people running them. Animals are treated better than years ago. Some still may be unfairly treated but animals rights activists keep a close eye on things. I liked the photo it was a good shot.

• Canada
2 Jan 08
Hi again Remo, Sorry I was so long in commenting to your addition. As hard as I try to maintain my 'response for every response' things get lost in the shuffle. Anyway after our experiences I can agree with you that the animals do appear to have a good life and enjoy doing what they do. Thanks for your feedback about the photo, my hubs got that one! Cheers, Raia


• Canada
25 Jul 08
Hi thanks for the information. Welcome to Mylot as well. Good luck with your up and coming event. Raia


• Canada
2 Jan 08
Looks like a double post...appreciate hearing your views...thanks. Raia