Is staying more than 2 hours in front of computers hazardous to health?

Philippines
August 17, 2007 7:49am CST
In my desire to seek income from internet business opportunities, I spent more than 2 hours to 8 hours in front of my computer. I do not know if this is hazardous to my health though I make sure I eat on time. Are you like me? or more than me?
4 responses

• United States
18 Aug 07
I spend a good amount of time infront of the computer. I recommend taking a 5 to 10 minute break every hour or so to stretch and walk around.

• United States
17 Aug 07
The only thing I would say is that being at the comp for 8+ hours can get tiresome. I'd recommend getting up and stretching, walking about for a bit, at least every hour or so. Remember, cramps, strains and clots can occur in the sitting comp position.

• India
17 Aug 07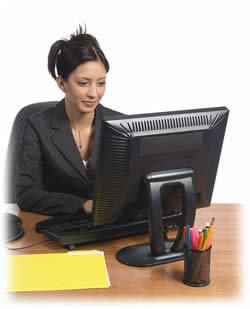 i don't think so. As i have been working since last 10 years on computer and my working hours is at least 8 hrs. daily. Even i have not got any spectacles. But you have to do one thing that you have to move your eyeball time to time just for an excersise and to move your sholdures too. Otherwise you will fee that you are affected from spondlitys. That is the only precation needed for computer worker.

• India
17 Aug 07
Hi, Nice discussions.U r right.Good Night.