This is crazy...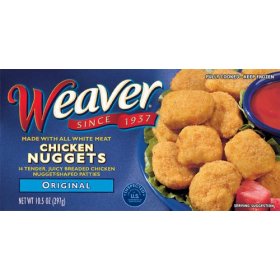 United States
August 17, 2007 11:21pm CST
I was answering posts and saw this ad at the top. It is for Weaver's Chicken Nuggets on Amazon.com and they are selling them for $4.99 and a standard shipping of $9.95. What gets me, besides the price, this is listed as a frozen food!! I'd be terrified of getting some kind of food posioning! How are you supposed to get this without it thawing and possibly getting sick from eating it. The only way I can see if you overnight it and thats like $24.00 to do. Even if you live in another country there'd be no way to get it to you before it thawed and/or spoiled. I can't believe ppl are not only selling this stuff, but others are actually buying it. Here's the link if you want to look http://www.amazon.com/dp/B000328VIS/ref=nosim/?tag=dealtime-gourmet-20&creative=380333&creativeASIN=B000328VIS&linkCode=asn AT PEACE WITHIN
10 responses

• United States
19 Aug 07
Alot of time when they ship frozen items it is shiped with dry ice which lasts longer than regular ice. It is also shiped in styrafoam containers that are real think like an ice chest that helps keep things cold.

• United States
19 Aug 07
I can't say that I would want to chance those nuggets! Especially at that price!

• United States
18 Aug 07
What they would most likely do, twoey, is pack it in dry ice. I used to order from Omaha Steaks and that's the way they shipped their products. Seems like it would be simpler to just go to a local store and purchase the Chicken Nuggets though.

• United States
18 Aug 07
i have to agree with worldwise1. After all how do you think all the grocery stores get their products that are frozen? They have freezer trucks that they ship them in.

• United States
19 Aug 07
I agree with I would be afraid of getting some kind of food poisoning. I wouldn't mind ordering anything else but food online. I would wrather go to the grocery store and get my food.

•
18 Aug 07
would it really taste good? come on no frozen chicken nuggets for me!!!


• United States
18 Aug 07
I don't think I would ever buy food off of ebay or amazon or anything online. UNLESS, like my grocery store has an online grocery store. So you order food and it is delivered to you, but it's delivered straight from the store and it's the store closest to you and everything. I'd do that, but I don't think I would ever buy food from amazon or ebay or anything like that. That's crazy!

• United States
18 Aug 07
First of all, since when does amazon sell food like a grocery store? That is weird and seems unnecessary to me. I would never purchase anything like that online. Who would? It's not like chicken nuggets are some kind of specialty food lol.

• United States
18 Aug 07
I always thought Amazon was for books, movies, music things like that. I could see a site selling something like rare golden caviar or something thats really special but chicken nuggets?? McDonalds sells them by the thousands. AT PEACE WITHIN

• United States
19 Dec 07
Why would you pay $15 for a boc of frozen chicken nuggets that you can get at Winn Dixie for like $5?

• United States
18 Dec 07
Yeah, I know what you mean. They pretty much sell anything on Amazon nowadays. That is just weird in my opinion. No food should be bought online. That is where I draw a line.