Fireworks down by the bay!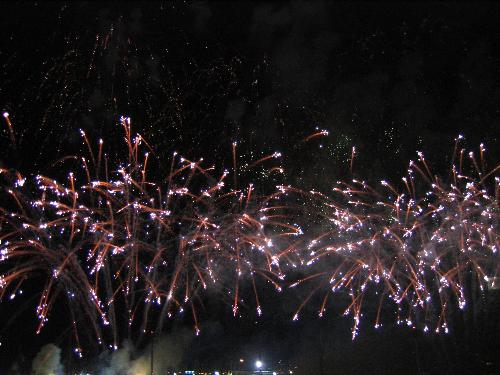 Singapore
August 18, 2007 12:29pm CST
This is the first time I managed to get tickets to go see the celebration of singapore's birthday with my wife! Eventhough it is not the actual day ticket, we are still able to go see the fireworks up close! My wife was elated when she heard I managed to get a pair of tickets to the fireworks show! Heh heh... the show was ok. I don't particularly fancy fireworks, so the appreciation is not as much as my wife would enjoy the show. Do you like fireworks? Why does a bunch of flashing lights, accompanied by loud booms excite you so much? Share you views. If you want more pictures, let me know, and I will try to post more pictures!
2 responses

• China
12 Sep 07
amost every celebration and festerval,there were firework show. it is showing, you are eated. however,it's nothing when you offen saw it. have you considered to show the firework yourself. it is dangerous but exiting.

• Singapore
26 Sep 07
It is not legal where I am from. So getting my hands on some fireworks to do the show myself is not possible. It would be nice though. I remember a trip to Thailand and they were celebrating a shop opening. There were lots of fireworks to celebrate the occasion. And me and my wife were just rite there watching it all. It was nice!

• Singapore
20 Aug 07
wow - congratulations! i heard about this but didn't get tickets to go. one year, a friend had a good room at one fo the hotels nearby and we got to watch the new year fireworks from the room! it was simply awesome. since we were quite high up, i felt closer to the fireworks than if we were on the ground! fireworks are something really special and there's no way to describe the feeling of seeing them close-up.

• Singapore
23 Aug 07
I dunno. It is nice to look at them... but I never understand why it is so fascinating. I have seen them so many times, and still cannot phantom the magic behind it. Guess it will take a few more fireworks show for me to really appreciate the magic it brings to the hearts of those that knows how to really appreciate it. thanks for the response though!