Do You Think Morphine Is Helpful in Reducing Stress and Pain?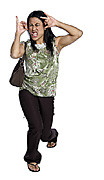 United States
August 18, 2007 5:03pm CST
Morphine is a very strong drug. It is now used routinely in hospitals (at least where I live), and it causes problems for many people. I am allergic to it, so it is a BIG problem for me. What do you think hospitals should do to reduce people's stress levels and pain? Do you agree with their use of morphine, or not? Are there any alternatives that are more helpful?
1 response

• India
19 Aug 07
regular use of morphine in sress is harmfull to health and it is addictive. do deep breathing and meditation

• United States
21 Aug 07
I would never use Morphine on a regular basis. I had it in the hospital during one surgery and had serious reprecussions from it. I agree, it is very harmful to one's health. However, I disagree with your suggestion concerning reducing stress. Deep breathing and meditation are religiously tied to Hinduism and Buddhism, and since I am a follower of Jesus Christ, I never practice them. What reduces my stress levels when I'm in pain or having difficulties is reading God's Word which reminds me that He is in control of my life and is completely sovereign, therefore I do not need to fret or worry about anything. The LORD God has promised to be with me wherever I go, even in the midst of trials. Thank you for your comment. :)