Do you enjoy texting your friends?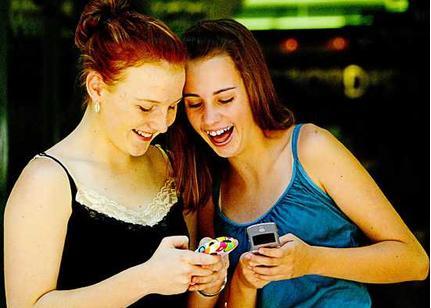 United States
August 21, 2007 11:16am CST
In our country texting is everywhere because of all the celphones thats coming out in the market today. i guarrantee that they produce billions of celphones every year with different models! i think texting is also good because it can save you money cause it's more cheaper than calling somebody and if it appropriate when your friend can't answer a call right the second, you can just text your friend and leave her a message. it also nice if you receive a simple txt message from your friend every morning and night, though, sometimes it can be addictive because you can also use the celphone for taking pictures and sending it to your friends, can be use to email someone also, or even browse the web and download ringtones or wallpaper.It's really high tech now. i do txt but not always anymore cause it cost me a lot to txt my friend now since i moved to a different country but we still keep in touch no matter what. i guess texting is nice and cool but we shouldn't do it while driving or walking on the road just to prevent accidents. Do you like texting or do you prefer to just call?
5 responses

• Kenya
23 Jun 08
Hi Claire, long time since i saw your discussion. how have you been? I also like texting my friends and family because its the cheapest way to convey a message. I also use sms to send people airtime. There is a feature here given to us by the service provider where you can text 10 people at ago and charged the same price as 1 message. I love using that one.

• Philippines
20 Jan 08
me,,i just use text all the time ,,its so cheaper ,,my cellphone is only have "all text 20"load ...i can text it in 100 text in my 20..so appordable right?thats why i love texting ...cant afford to call ..hehehe....and this is smart way to save....

• United States
18 Jan 08
Call me. I hate text messages. I don't have time to pound out a response that'll take me 10 minutes to do when I could just call you and tell you in 10 seconds. Plus my incoming calls are free and my text messages are about $.60 a pop to read. So call me. I delete any and all text messages without even reading them. I don't have time for them and I think it's childish.

• United States
25 Sep 07
Yes I do, I'm not the faster texter in the world, but I love doing it.

• India
21 Aug 07
Hi, I would like to forward those from others to others and also rarely I make my own, most often I talk through phone and in case of some funny things then I would use texting.