Count Dracula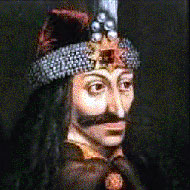 Romania
August 22, 2007 3:19pm CST
What do you know about him? Is he a work of fiction..or contains some historical references? Did you know the name Dracula comes from the name "Dracul" which is derived from a secret fraternal order of knights called the Order of the Dragon? The Dracula legend as he created it and as it has been portrayed in films and television shows may be a compound of various influences. What do you think about the faimous vampire??
6 responses

• Romania
22 Aug 07
i think all the story created arround of Vlad Tepes is something fictional,it isn't real.he was called also Dracula cause he was punishing his enemies and the people from his nation that have stollen,cheating etc in a manner very cruel,by killing them in a special way.don't know how to say it in english but was something like penetreting their bodies with something from metal and showed them as a proof of their guilty that the others shouldn't do the same mistakes cause will get the same punishment

•
22 Aug 07
I know an important thing..Count Dracula has let a beautiful and famous castle in Romania.The castle is situated in Bucegi Mountains and it's a wonderful place who it's worth visiting.It's named Bran Castle.Do you have visited him???

• Romania
22 Aug 07
i have visited the castle this summer.i liked it,is very beautiful and also the sights beside it are very beautiful.but don't be scared you won't find any vampires there


•
22 Aug 07
aS FAR AS I KNOW THE CHARECTER OF dRACULAR WAS BASED ON THE REALITY OF vLAD THE IMPAILOR, BUT I AM OPEN TO CORRECTION BLESSED BE

• United States
31 Oct 07
I love vampires so of course I know lots about Dracula. There's the myth that yes he was real, but of course most people do not believe in myths, but because of this it caused lots of people back in the 1400-1900s to "become" vampires. The rumor was that there was a man named Count Dracula, but he wasn't a vampire, just had long sharp like fangs and had the "traditional" widow's peak black slicked hair and all that. It's in this vampire book I have, but it's not part of the Dracula myth, just a rumor from the 1700's.