I"m back and wanted to thank my friends for their support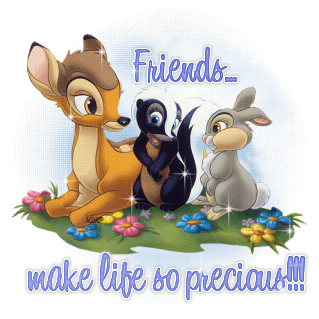 United States
August 22, 2007 10:37pm CST
I am back from my hiatus. I wanted to thank you so much for your support. I really appreciated it. I did find out one thing-I found out who my true friends were. I had people who weren't even on my friend's list wishing me well but very little from my friends list. That makes me very appreciative of the ones that did . I was kinda down about it but I am not gonna let it getme.I am just gonna do some serious deleting over the next few days. I had always thought friends were supposed to be there for each other.I will just have to concentrate on those who were there for me.Thanks again.
10 responses

• United States
23 Aug 07
Geez hon whats up? I have been gone myself for over a month. Did I miss something?

• United States
23 Aug 07
I sent ya a pm about it. I know ya were gone awhile and sure missed ya. I am really upset with the friends who have been on regularly but couldn't take the time to send a few words of encouragement. The ones that have been gone for awhile have excuses on not supporting me. I really missed your funny little comments,lol

• United States
23 Aug 07
Jersey, if you sent me a Pm I never received it at all:(((

• United States
25 Aug 07
Are you serous? i did right before i left. it woldn't surprise me though.It wouldnt be the firs time emails didn't get through. It has happened quite a few times with me as well as some other mylotters


• United States
23 Aug 07
Hi! hi,girlie,I would never delete you. I consider you a very sweet friend.I won't be deleting friends who haven't been on for awhile cause obviously they wouldn't know i am leaving if they haven't been on lol.You're quite safe-smile

• United States
23 Aug 07
Glad to see you back :) Your presence was sure missed by me here and I do hope you stick around now..And tell Moose Swifty isn't his toy!! You know what I mean LOL

• United States
23 Aug 07
thanks .It's good to be back.I have given a stern talking to to the Moose. lol. I have him sitting on top of my mirror in my room. I 'd like to see mr.smarty pants try to play with him now,lol

• Indonesia
23 Aug 07

welcome back my friend. So, tell me about hiatus? please respond my discussion also will you? i miss all your words. thank you.

• United States
25 Aug 07
thanks you.It's good to be back.I just had to take a break cause things were going really badly and i was starting to get a little cranky on mylot.things aren't any better but i have pulled myself together a little more

• Indonesia
26 Aug 07
oh come ooonn,.. put your self together and lets gets some earniiing!!! wheres the spirits!! you can do it! yeeeaaah

• Canada
23 Aug 07
Hi hun, I'm sorry i didn't actually get the email that you were leaving, i had to look to find out what you were talking about. before you begin deleting, and becoming upset with your friends, maybe good, maybe more meaningful than you think, i know i as well as many others have not been receiving our email notifications, and if everyone is as busy as i have been recently, they may not have the time nor energy to search through the pages and pages of sometimes old discussions their friends started just to find the new ones. once again, i apologize, if you want to delete me, that's alright, i understand, but please think about it when it comes to some people that might not be doing it out of spite, rather not knowing what's up. i hope things are well now.

• United States
25 Aug 07
Hi! I wont delete you.things are just the same but i have gotten myself together.I don't know how long though.One of the many reasons why i left cause i was getting tired of the way people can't handle someone's comments on a discussion.Here I am gone for about 3 or 4 weeks and I come back and deal with two comments badmouthing me for my views on a subject.I mean jeez,if they can't handle my response,just go on to another for goodness sake,I didn't need that and what madeit worse is that these mylotters that slammed me were on my friends list

• Canada
25 Aug 07
i'm sorry you had to deal with that, people can just be so ignorant.... i understand what you mean, i'm not on here much anymore because of a lot of these people and the way they act. If you wanna talk ever somewhere other than here if you have messenger lemme know and we can add eachother.

• United States
23 Aug 07
Welcome back! The board seems so much slower in the last few weeks. I will be interested to see if you feel the same after your absence. I feel like I have to search much harder to find a discussion I want to respond to. I can't even find ones that I feel I can add anything meaningful to.

• United States
27 Aug 07
Hi!Thanks for the welcome.I know what ya mean.I am having a hard time trying to find a discussion that i want to respond to or add anything. I noticed that a lot of my friends haven't been on for awhile

• Australia
23 Aug 07
I think you will find that your friends do care. It's just that many people have been leaving My Lot, or are inactive, or just not posting a lot. Most of my friends didn't respond to my discussion regarding a very stressful situation that we are in, but I didn't take it personally. Masny My Lotters are concentrating more on better psying programs. Good Luck to you.

• United States
27 Aug 07
Hi. i haven't seen hardly anyone around.It's like pople have really been jumping ship. It doesn't seem the same anymore.


• United States
25 Aug 07
Hi ! I also value your friendship. my true friends like you are the only reason i keep coming back.thanks fore the support.I realy apppreciate it


• United States
2 Sep 07
things are the same but i have pulled myself together.,thanks for asking.I notice a lot of people haven't been on much. I wont be on myself.I will be leaving as soon as i am able to cash out.for good this time

• United States
1 Sep 07
I think truly that people get too busy- and they forget to answer friends discussions- I try to stick to only friends discussions- that is what friends are for- I'm glad you had a great time! I bet it's nice to be back also- Much needed time away- Glad to see you back here and posting!

• United States
1 Sep 07
Thanks. I usually stick to friends discussions,too.I wont be here long though. I am gonna wait til i can cash out then leaving for good.