Are you an early riser? Or are you a night person?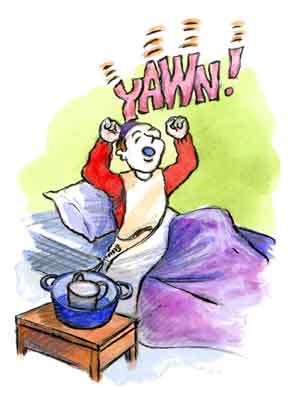 Philippines
August 23, 2007 6:25pm CST
Are you a morning person? or a night person? I wonder who among here loves to wake up early in the morning and do lots of things... or are there those who loves to do things in the evening and sleep late... just like me. I have to admit i'm not one of those early risers. I do more things in the evening.. clean my room, watch tv/movie, update my scrapbook, talk in the phone, listen to music, surf the net, do mylot and a hundred other tasks i've done at night before i go to sleep..it seems that i'm more motivated to do things at night (lolz).. So, since i sleep late at night like at 12midnight every day, i have difficulty in waking up early in the morning.. i love to sleep in the morning! So.. which one are you?
7 responses

• India
24 Aug 07
I am an early to bed early to rise kind of person. Though my nights do get delayed round 12ish or so. Mornings we all have to be up around 5.30 as the kids have to go to school and we to our work, so there is no other option but to get up early,and becasue of that, we have to sleep latest around 12-1, or else wed never be able to get up ! But whatever house work that i have to do,i do it in the evening as morning i am out at work. So,its a combination of things for me. But on weekends or during holidays we all have a different routine and time table. We all get up around 9-10 or lazily whenever we please, and similarly sleep timings may vary from person to person too, as we know that the next morning is relxed adn no rush for time. But this again, is for a few days,and we again get back to our old routine of getting up early. I guess its whatever is best suitable to eah person.

• Philippines
28 Aug 07
Yeah, typical moms really get up early in order to care for kids going to school.. i agree it's what you call your "body clock" wherein one programs his/herself in sleeping and getting up in the morning, depending on what suits you and your lifestyle ..:-)


• Philippines
28 Aug 07
Some really stay up late and wake up in the morning late because of their night life! lol.. but there are those who just stay up late and do something else aside from socializing.. :-)

• Hungary
23 Aug 07
I am a night person and I think most people are the same. Here is why: when you get up at morning you know what's your to-do list and it's overwhelmingly for you. You try every day make your must-have-to things more faster to have a rest in relax - at the evening. That's why most people are night person. I think.

• Philippines
28 Aug 07
I just do more work before i go to sleep.. that's just why for me.:-) And when you really get used to staying up late in the evening, it's difficult to sleep when you're not yet sleepy..

• India
19 Nov 07
Hi livvy, its hard to say whether im morning person or night person.sometimes im morning person,when i have classes or exams.wake up early and do my learning.in morning i have will got fresh and can concentrate in my studies.but other times i night person,say i had to do my studies,writing,sometimes watching movie.those days im late bed. Happy myLoting:-)

• United States
6 Nov 07
I am not early riser at all, i am morning person.i just don't liek to wake up in the morning, I can be really rude and in bad mood and all my day would be bad. I remeber when I was going to the school it was terrible to wake up in the winter, when outsite was dark and you have to wake up.But in the night I am never tired can stay up long and I am really active at night.but then I like to sleep long in the morning.


• United States
28 Aug 07
I am SO much a night person!! And really always have been, through school, when my kids were small... up to now, where my medications dictate my schedule. I also like the peace and quiet of doing things while everyone else is asleep... and knowing the phone won't ring!!