What's wrong with this cat?

Australia
6 responses

•
25 Aug 07
I think he's yawning! And very handsome he is too:-))

• Australia
25 Aug 07
He's not yawning, or crying, he's laughing. Like that funny weird cat in alice in wonderland... Obviously there was a funny joke that'd been said and he was roaring with laughter. Gee doesn't anyone know about cats these days? haha.


• United States
24 Aug 07
he's yawning. :-D mine do that all the time... they're silly beasties.

• Canada
26 Aug 07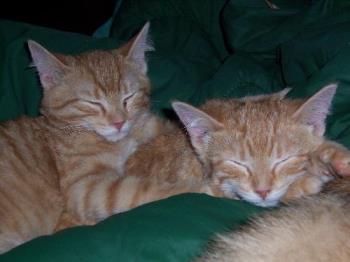 I love this photo...and whether he is crying, yawning or meowing..it is priceless! I am particularly fond of this photo because he looks similar to our ginger twin cats. While reading down your responses what does the 'so not like you' comment mean? From my chats with you there is geninue concern for the planet and the animals on it. So posting photos of cats doing what they do is great! Just my perspective of course! After seeing your photo I could not resist posting a picture of our ginger twins Tigger and Tee-Tooh as kittens to show the similarities. Is this your cat...or just a lucky shot of a friends special furry friend? Fun post, great photo and enjoyable chats. Thanks Aussie!

• Australia
26 Aug 07
what does the 'so not like you' comment mean? Just a friend from myLot who has been following my postings... and is more use to my serious debates than to see me playing with cats. (laugh)

• Canada
26 Aug 07
Thanks for the explanation. That was part of the reason I decided to mix it up with a few lighter, up-beat topics. We all need to give our thinkers a rest every now and again! LOL Both pictures of the cats are really cute..got any more?

• Canada
15 Sep 07
Just noticed your best response on this one...thank you for that. I know it was the photos of our ginger twins...they bear resemblance to the precious 'cutie cat' in your photo. Love, love love cats...except wild ones that make Bobcat sick. That is not a good thing. I trust he is remaining in better health after his ordeal? Sure hope so!