Mystery Fish Found

United States
August 25, 2007 1:38am CST
I came across this website where they have a picture of a strange fish. It looks to be a gigantic piranha of some sort. I believe there are a lot of creatures in the ocean we don't know about, since we haven't been able to explore all of it and who knows if we ever will. Check it out and tell me what you think it is. http://www.cryptomundo.com/cryptozoo-news/newmystery-pic/
7 responses

• United States
25 Aug 07
Thats a fish? It looks more like something that needs to visit a proctologist.

• United States
25 Aug 07
I will try to find the article, but I think that is the fish that was caught and identified as a "living fossil" a month or so ago. Apparently, people have been catching all kinds of fish that have been thought to be extinct lately. I believe it is from over fishing other fish populations. I read on the Time Magazine website yesterday that over fishing will causes us to have zero ocean fish by 2050.

• United States
25 Aug 07
Where was it found? It looks to be related to a type of tetra that lives in Africa. They do not give a good picture of the fish but rather only the teeth impress them. It would be better to get some good side shots of the fish to be able to ID it better and also the area of the world that it cam from. It is not a piranha but could be distantly related.

• United States
22 Sep 07
Yep thats another eason I dont swim in anything but a pool!!! What are they going to do with it now? It does look like a HUGE piranah!! Those tetth look dangerouse..wouldnt want to get an arm or leg stuck in them!

• United States
9 Sep 07
That is so cool!! I don't think it is related to a gar...the scales and body don't seem right. A barracuda doesn't seem right, either. I can honestly say, with all the fishing we've done ( and always looking for the 'big toothy bas*ards) I have never seen a fish with teeth like that. That is why I like salt-water fishing. Even if we don't keep the fish, it is fun seeing the different things out there. I like to watch Blue Planet on cable because they show fish/animals I have never seen and will never see.

• United States
7 Sep 07
Wow, those are like my dogs teeth lol! Doesn't look like a piranha type of fish, doesn't have the body shape or the proper fins. Doesn't look like a barracudea type either, they have the pointed head. It would've been nice if they would've noted a location & if it's a fresh water or salt water fish, I'm guessing Africa, South America, or one of the islands between the two continents. Possibly Australia as well. Interesting, I'll have to search around and send out a few emails. I'll let you know if I find anything.

• Philippines
28 Aug 07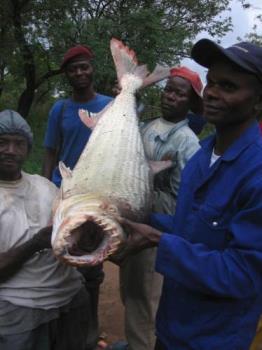 Whoah, look at those teeth, its very sharp and its a very big fish. I'ved checked out the site they've got lots of exotic and weird fishes in there. From what I read this fish is a goliath, AKA a tiger fish. Native to the Congo River in Africa. Nice website, thanks for sharing.:-)