The piggy bank that made me cringe...


United States
August 25, 2007 7:14am CST
I collect piggy banks, all types of cute little pigs adorn they various shelves of my home at random. Don't get me worng, it's not a plethora of pigs or anythin. I only have about 15 of them. But for some reason I just love them! They are cute and make me happy. I was doing a search for change jugs and one of the images that came up is the photo below. It disturbs me on a level I can't quite identify. I don't like it. Does the scary piggy bank give you a bad vibe?
6 responses

• United States
28 Aug 07
Boy, it is a pitiful site. The poor little thing's ribs appear to be showing. He ovbviously wasn't well fed before the photo was taken. If that were a real life pig, I think the Humane Socitey would be after the owner. lol

• United States
28 Aug 07
Hi Brendakaya:) I think the Humane Society would be after the entire neighborhood! Piggy is sure in a bad way. lol

• Australia
25 Aug 07
Oh that is a sad looking piggy bank I wonder if it gets fatter as you feed more money in...pigs seem to be the new collectable, it seems to have taken over from the teddy bears....I am sure you will end up with many more because thats the way collections go... :)

• United States
25 Aug 07
Hi Lilaclady! No, it doesn't get fatter when you put change in it, though I think it should. Maybe it wouldn't be so creepy that way. I think your right! Pigs are the new collectable, they have knocked teddy bears to the end of the line... poor teddies.

• Philippines
4 Jan 10
That is indeed a creepy image of a piggy bank. I think the image is suppose to remind us not to starve the poor pig. But I don't think I would like to have something looking like that on my table


• Philippines
13 Jun 09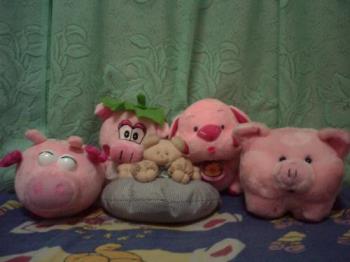 awww..poor piggy.

I pity him.maybe his owner didn't "feed" him enough.it's creepy in a way,but it'll make you stop and think.if that piggy bank doesn't have enough coins,then what would happen to humans without money to buy food?I love pigs too.I collect a lot of pig stuff,most of them are stuffed toys.I take care of them so much,I don't take them out so they won't gather dust.I hope somebody adopts the poor piggy bank and make him healthier.

• Canada
22 Jan 10
Oh wow, that "piggie" is quite creepy and scary looking. I certainly wouldn't give that to one of my girls to put their change in

. I much prefer the round, plump ones that you usually find!

• United States
13 Sep 07
That is one creepy pig. I would never be able to sleep if that thing was in my room. I wouldn't even be able to turn off the lights!