Do you stay with your kids at the playground?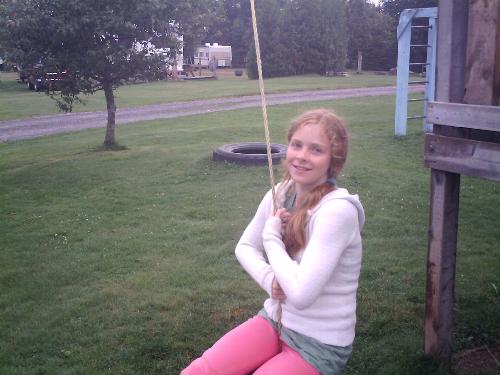 Canada
August 25, 2007 7:33am CST
I was at a campground during our family vacation and there was a playground there. I noticed that I was the only parent that stayed at the playground with their childern. It was a private campground and many families knew each other but I still thought that I should be there if anything happens. My kids are almost 12, 8, and 6. Do you stay with your kids when they are at the playground or do you let them go on their own?
5 responses

• United States
25 Aug 07
I have a 15 month old and I do not let her out of my sight. I know at that age you can't, but even when I was babysitting, I did not let the kids out of my sight. This day and age you never know who is watching and waiting and as you mentioned, something could happen and you would need to be there.

• Canada
26 Aug 07
15 months old I would never leave them out of my site for even one moment. I even had them in the washroom if I needed to go at that age. Just in case LOL

• Boston, Massachusetts
25 Aug 07
The hardest thing for me has been learning to give more freedom to my 13 year old daughter, because I am a watcher and worrier. But in some situations, I have learned to allow her some freedom which in turn seems to foster responsibility. My son is 7 and I watch him much more closely, but perhaps not as much as I did her at that age. You relax a little with second children but he is a boy and they love to do dangerous things. So even when he is in my backyard, I am out there every few minutes just to check and make sure he's okay. I think all mothers live in a world of tension and heightened sense of danger until their kids grow up and move away from home.

• Canada
25 Aug 07
I am a watcher and worrier too. Just this past summer I have started to let my daughter go out a bit without me or let her stay home when I make a quick run to the store. She is a well behaved child though and is pretty quiet. My sons are daredevils and I worry more about them getting into something dangerous. Thanks for your post!

• United States
27 Aug 07
My kids are about to be 6 and three. I wouldn't dream of leaving them at the park by themselves with all the reports of pedophiles running about. But in your situation I would allow them to be at the park by themselves as long as the mentality of the 12 year old is sound. I would teach my 12 year old to look out for the other two, and about "stranger danger" I might even opt to get the 12 year old a cell phone, even if it is just a firefly phone, a phone that has four buttons, and the parent sets those numbers to those buttons so they can only call those people. That way if anything does go wrong, the 12 year old could call me and let me know. I understand your concern, in this day and age, but at the same time, your 12 year old is old enough to have a little more freedom and responsibility.

• Canada
27 Aug 07
I have let my daughter 12 to be without me for a bit and give her my cell phone ONLY to be able to stay in contact with each other. I do hear about some youth racking up phone bills chatting but she doesn't use it for anything but to call me to let me know she is okay and stuff. She is a responsible child and would be okay alone for a while. The boys who are 8 and 6 forget about it. HEHE Thanks for your response.

• United States
25 Aug 07
I do stay with my kid every where he goes. I gave him space to explore, and making friends or playing with friends, but I told him never to get out of my sight. In these days, you can't be too careful. I have a bad feelings when I see kids by themselves. I think parents should take active care of their kids.

• Canada
25 Aug 07
Agree with you too! Thanks for the post!

• United States
1 Sep 07
When my kids where growing up I stayed with them in the park, mall and other places. I am not the mother who dropped off her kids and came back several hours later to pick them up. I would have been at the play ground, in the pool if I was you. I think you make the right choice. Keep your children safe.