A New Bionic Woman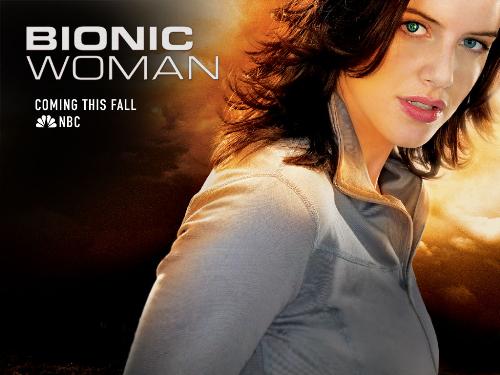 United States
August 25, 2007 3:15pm CST
I was watching the tv guide channel and they were talking about Miguel Ferrer being on a new series this year: "The Bionic Woman". I couldn't believe it. I figured I heard wrong so I went and checked at IMDB and yeah they are doing a remake of it. NBC is all set for this year to have it on. It premieres Wednesday September 26th at 9pm Eastern. You can find out more about it here: http://www.nbc.com/Bionic_Woman/ and http://www.imdb.com/title/tt0880557/ Now I remember the original show. I watched the "Six Million Dollar Man" and the spin-off "The Bionic Woman" as a kid and loved them. I even watched the later made for TV Movies. I'm curious to see how they do this and if it will work for them. What do you guys think? Do you think they can "Rebuild it better, faster, stronger then before?"
6 responses

• United States
25 Aug 07
Yes, my husband actuallly showed me a preview of the show. It looks awsome! I cant wait to see it. I remember the Bionic Woman and The 6 Million Dollar Man. They were one of my favorite shows as a kid. It will be exciting! With the technology now it should be interesting.

• United States
25 Aug 07
With the new effects they can do with the shows it should be really neat to watch. I know right now there is nothing on Wednesday nights that I watch at 9pm so it can't hurt to watch it.


• United States
25 Aug 07
I don't know if I was alive when the original aired. But the new version of the Bionic Woamn has been getting more and more press since it was announced on the fall schedule back in May. They have interviewed a lot of tv watchers, and most of them say the Bionic Woman is the show they are looking forward to the most. I am looking forward to it, but I wonder if people who watched the original version will compare it to the new version with an open mind. I just hope they do it justice. : )

• United States
25 Aug 07
Well I looked at your age and no you weren't born then which makes me feel really old to be honest hehehe. I did look at the rest of the new shows coming up this fall and some look interesting but this one looks the most interesting of them. I'm going to be watching it with an open mind although I admit I have a soft spot for the original. I was just watching some clips on youtube (http://www.youtube.com/watch?v=AqhnrQ2e3WA ) about the original and it brought back a lot of memories. Should be interesting to see how they do the new one.

• United States
25 Aug 07
Maybe it's good that I haven't see the original. Some shows are brought back after decades and they can't live up to the hype. But this has such a wide range of possibilities that I doubt they can go wrong with this remake. I'm looking forward to it. Strangely, I always want to see the sitcom Chuck, also on NBC. I keep seeing the previews of Bionic with Chuck. How could they go wrong with a sitcom about a geek squad worker who goes to work undercover for the governement, LOL.

• United States
29 Aug 07
I haven't seen any commericials for Chuch at all but I don't normally watch NBC, very few shows on there that I like. This one though I'm looking forward to.

• United States
26 Aug 07
Believe it or not, I saw a little profile of this new show at the movie theater waiting to see The Simpsons movie.It seems like it is a action/ chick version. I mean there will be enough action for action fans and enough internal drama for people that like a good story. I remember The Six Million Dollar Man and The Bionic Woman. I saw more of Steve Austin than Jamey.I am very hard on remakes. And what I saw of the new show, I don't think it is for me.I would rather see the old shows on DVD. Or maybe I will get lucky and t.V. Land will air them.

• United States
29 Aug 07
Well I did check they were released to DVD. Might be interesting to see them once again. It's been a long time since I watched them.

• United States
29 Aug 07
Cool. It would be fun to see them again. Thanks for the info.


• United States
29 Aug 07
I saw it on the fall line up, it's called Journeyman. I agree it looks a lot like a Quantum Leap remake but not sure. Problem is it's up against CSI Miami. Not sure how well it will do up against that.

• United States
30 Aug 07
I LOVED this show in the 70's and I'm really psyched for the remake. I think it will be great! Also, Isaiah Washington (the ousted Dr. Burke from Grey's Anatomy) has signed on to be on it, so that should be interesting. Remakes of shows aren't always as good as the original, but in this case with cooler special effects than we had back in the 70's, I bet it will be good!