Pain From Old Injury

United States
August 27, 2007 12:03pm CST
I fell and broke my right ankle while walking on the ice about 15 years ago. Let me tell you, it was one of the most painful injuries I have ever endured. I ended up undergoing two surgeries and a lot of physical therapy due to this injury. My problem is that once or twice a year This thing flares up and it's just like having broken it all over again. I finally resorted to soaking it in Epsom Salts today after a few days of this horrible pain. I was wondering if any of you have had such an injury, and if it continues to plague you years afterwards. I am open to any and all suggestions. BTW, the reason for the second surgery was the doctor discovered that I had an allergy to the metal implants he put in during the first surgery. This resulted in my having to go through a lot of pain and horrible swelling.
9 responses

• United States
28 Aug 07
Sounds to me (and I'm no Doctor) like you could have post-traumatic arthritis in that ankle. I injured one of my ankles as a child, and I now have severe arthritis in BOTH ankles. I also injured my knee when I was younger, and have post-traumatic arthritis there as well. I live in chronic pain, not only due to this osteoarthritis, but also due to rheumatoid arthritis, and two herniated discs in my back. If I were you, I would bring this up to the Doctor, and have him or her send you for an x-ray to see if it healed properly or if you have any other problems that haven't been addressed. A person shouldn't have to go through such severe pain. I bet they will give you medications as well, such as an NSAID for swelling, if your ankle swells. But given how long it has been since you originally injured your ankle, it sounds to me like you have osteoarthritis. I'd be willing to put money on it! But I am not an orthopaedic surgeon, nor a Doctor, and your best bet is to bring this up with a Doctor ASAP! You don't deserve to be in such pain!

• United States
28 Aug 07
I do have arthritis in several places, celestial. I have had it for many years due to old injuries. I have had a broken heel on my left foot and a broken ulna in my left arm from an automobile accident. I was also diagnosed with arthritis in my back. I am in constant pain.

• United States
28 Aug 07
I thought it sounded like arthritis. Get ye to a Doc, and get on some meds! See an orthopaedic surgeon.

• India
27 Aug 07
i have a broken right ankle too, it was broken in four places and didnt really heal well beacuse of my naughtyness, i used to go swimming with that and also took off the plaster much before the prescribed time. anyways, what i learnt lately is this. if you walk on your toes for a few minutes when you can it makes the ankle stronger and the the muscles stronger. this is an army advised exercise. prayers, apple.

• United States
28 Aug 07
Thanks for the good advice, apple. When it bcomes painful as it is now, I will try exercising it like I did in my physical therapy class.

• India
28 Aug 07
its ok. you can also go up and down, on your toes, though lighty in the begining. health, apple.

• United States
28 Aug 07
In high school I played basketball and I was always spraining my ankles. My doctor said that I should have both my feet cast because of how many times I had injured them. Well, that never happened and I have sprained them many times as an adult. I have yet to break one but I am sure the sprains are just as bad. Everytime I want to do a little jog or anything of this nature, I get excruciating pain in my ankles. It is the worst pain. It only last a little while but it hurts so bad.

• United States
28 Aug 07
Yeah, Feona, I can stand anincredible amount of pain, but not when it continues on and on. I think it just eventually wears me down. I only got about 3 hours of sleep last night.

• Australia
28 Aug 07
I had a dislocated and fracture at the same joint on my finger and I find that if I do have a bad sleep where I put a lot of pressure on that finger from laying on it, I will wake up with it kind of sore and numb. And even on really cold days, that finger tends to get numb and even feels colder than every other finger. So yes, I do have pain from an old injury and I don't think there is much you can do about it, is there? I would like to know also.

• United States
28 Aug 07
No there really is not much you can do, 8ctavarium. The epsom salts soaks help some, along with a little ibuprofen for the inflammation.

• Canada
28 Aug 07
I fell down twice, once I fell against my wrists and once I feel on my ankles. The first one, I had surgery, but the right side of my left hand still aches if I write too long. (I am left handed.) As for my legs, when I wake up, I have a pain from the back of my right hip and the front of both my legs ache if I walk a lot or run. Well it is a mild chronic pain. I do not want to sit still, and if I cross my legs, I have to switch them all the time. My upper legs do not ache. Oh and there is a browner coloring on the lower part of my lower legs, almost like an inside bruise.

• United States
28 Aug 07
The two surgeries on my ankle left a very horrid scar, suspenseful. I can take that, but I am tired of the pain.


• United States
28 Aug 07
Thank you for your concern, naty. I think it is beginning to feel a bit better since I soaked it this morning. I will exercise it and soak again before I turn in tonight.

• United States
31 Aug 07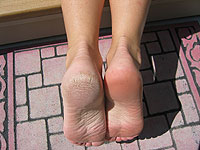 Have the doctor give you some anti~flammatory pills, they work great for those bad days and they don't make you feel funny either, Aleves work good too. I have steal plates with 13 screws in my right ankle as well and 4 on the other side, (same ankle) so a total of 17 screws in one ankle, and cold cold days are tough as well, I love those pink pills!

•
31 Aug 07
Ouch! Hope it is feeling a lot better now sweety! I broke my ankle when I was younger and it still plays up sometimes! Resting it is the only way I have found to help it - having said that my injury wasn't as serious as yours! I do hope that you find something that helps! xxx

• India
28 Aug 07
Well I do have a somewhat similar experience but it was nothing compared to your trauma. It was about 12 to 15yrs back when we (the family) went for a pilgrimage to the Himalayas. Two particular sites were located in very remote and mountainous regions with no motorable roads. The only way you could reach was either on foot, on horseback or have porters carry you on huge baskets. Well I am pretty scared of horses (have never ridden one) and there is of course no question of riding on another human beings shoulders just coz I don't want to walk. So we undertook the journey of foot and walked throughout the day since morning and reached our destination in the afternoon. This was repeated for the other site too and in a span of 3 / 4 days, I had walked about 75 to 80kms. At that time it was not a problem really what with the beautiful mountains all around you and the pristine invigorating atmosphere, but after returning home I started having a nagging pain in my left knee. I never went to a doctor, I don't really believe them, they would have dragged me to the OT. I somehow manage, but my left knee has become weak after that and on and off, there is a constant nagging pain inside the kneecap. I think the cartilage has become weakened but I intend to go on like this. When it pains too much, I give it some rest or maybe do some relaxing exercises, but that's all.