may be too late to ask but...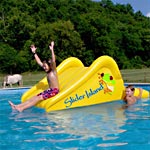 United States
August 28, 2007 12:43pm CST
so it takes sooooo long to get out the door when we want to go to the park or go take a walk, due to our white white sensitive skin. we all have to lather on the sunscreen...everywhere, including ears and even foreheads! so this may be the wrong time to ask, and too late since we're appraoching the end of the summer season, but what were some of your experiences with sunscreen this summer? what brands did you try? did you switch brands or stay with one? do you use the same brand every year? what SPF do you use on yourself/your kids? i've used the hawaiian tropic kids sunblock, 60 SPF. it's been good when swimming and sweating, BUT it's so thick and hard to rub in...heck, it says rub resistent, but you still have to rub it on, my goodness! the smell is so so. i think it was one of the cheaper ones and it has a pull off smaller bottle attached to the big bottle to put in diaper bags/purses etc. but i would like to try something different next summer. any suggestions??
2 responses


• United States
29 Aug 07
geez gabs how nice! "it hasn't been warm enough" it is HOT HOT HOT here!

• United States
12 Oct 07
oh man if i could i certainly would!! haha

• United States
28 Aug 07
We always use Banana Boat Baby 50 spf. It was a decent price..one of the cheapest and it was easy to spread. It is a huge bottle so I'll be able to use it again next year. Neither of my kids have gotten burned with using it. Of course I started putting on their sunblock 30 minutes before they went outside as its recommended so it has time to soak into their skin. I would try the banana boat though. It smells great and rubs in very easily!!

• United States
29 Aug 07
thanks for the suggestions! i didn't know you had to give it time to "soak in" but that makes sense!! i may have to try the banana boat. they've been around for a long time, they must be doing something right!! thanks laurla!