Delicious Apples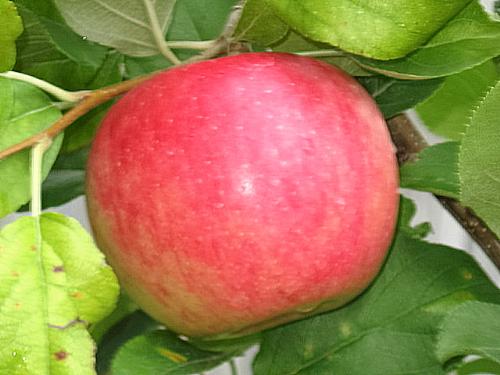 United States
August 28, 2007 1:44pm CST
Someone started a discussions about Apples and Orchards and a recipe for pie filling. I took a photo of one my Honeycrips Apples to add to it as a response. This is that same photo attatched here as well. Now after staring at that photo I just HAD to eat that dang thing. It was like a magnet to my mouth. Ohhhh let me say it was sooooo tasty. I have a few ready but I am guessing in a week or two they'll all be ripe enough to eat, bake with, etc etc. So if you'd be kind I would love some apple recipes for a semi sweet type apple. Thanks in advance. YUMMY home grown apples! Nothing like them I say. HAPPY POSTINGS FROM GRANDPA BOB!!~
9 responses

• United States
28 Aug 07
Hi Grandpa Bob! I was actually thinking about you when I posted that pie recipe. I was thinking, hmm... I wonder if he'd notice me sneaking into his backyard, taking a few of those wonderful apples he keeps telling us about, and making a pie with it? LOL!!! I would share the pie, honestly! OK, a pie is a waste of a good honeycrisp apple, though. I agree, there is nothing sweeter!!

• United States
28 Aug 07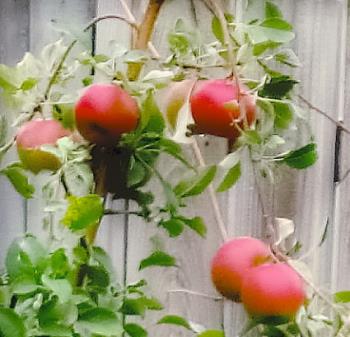 Here's a shot of a few of the Honeycrisp's from the top of the small tree. The branches are still dragging but I don't care I want lots of apples. You can see the branch just hanging so low. HAHAHAHA! thanks for that recipe again also. Next year I should have an abundent supply of the Haralred apples. Those are great for cooking I was told by the nursery. HAPPY POSTINGS FROM GRANDPA BOB!!

• United States
28 Aug 07
I may just have to sneak and get some of them apples!! LOL! Don't worry, I'll leave something in return... do you like pickles? I have more than my share of these blasted cukes! I only have 2 vines!!!

• United States
29 Aug 07
Didn't you read my p[ickle discussion? HAHAHA!! If not read it now!



• United States
28 Aug 07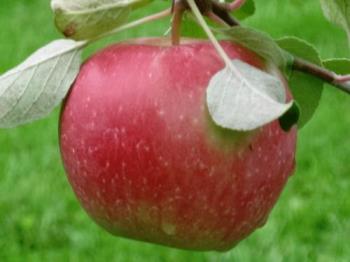 I have to make sure my grandsons get to pick them this year. The oldest is still upset I picked them last year and he didn't get any. Here's another apple from the same tree. HAPPY POSTINGS FROM GRANDPA BOB!!~

• United States
28 Aug 07
There you go....bragging again! Teeheehee! Just kidding! I saw the same discussion, and it made me very hungry too. At least you have the apples to satisfy your tummy. LOL I wish I had recipes to give you, but I am sooooo NOT the cook in the family. But if I come across some I'll send 'em your way.

• Australia
29 Aug 07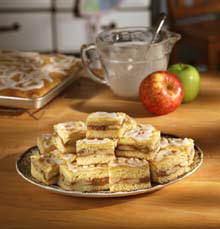 This is yummy. I have attasched a photo of it. Frosted Apple Squares The fresh apples and spices in the Apple Filling give these squares an irresistible apple pie flavor. Yield: one 15" x 10" square cake Dough 3 3/4 to 4 cups all-purpose flour 2 tablespoons sugar 1 envelope (1/4 ounce or 2 1/4 tsp) FLEISCHMANN'S RapidRise Yeast 1 teaspoon salt 1/2 cup water 1/2 cup milk 1 cup butter or margarine 4 egg yolks Apple Filling 1/2 cup water 1/2 cup sugar 3 tablespoons cornstarch 2 teaspoons ground cinnamon 1/2 teaspoon ground nutmeg 1/4 teaspoon salt 1 egg yolk 3 medium cooking apples, cored, peeled, sliced Powdered Sugar Glaze 2 cups powdered sugar, sifted 3 to 4 tablespoons milk Apple Filling: In a saucepan, combine 1/2 cup water, 1/2 cup sugar, 3 tablespoons cornstarch, 2 teaspoons ground cinnamon, 1/2 teaspoon ground nutmeg, and 1/4 teaspoon salt. Stir in 1 slightly beaten egg yolk and 3 medium cooking apples, cored, peeled and thinly sliced. Cook over medium heat, stirring constantly until thick, about 5 minutes. Remove from heat; let cool. Dough: In a large bowl, combine 1 1/4 cups flour, sugar, undissolved yeast, and salt. Heat water, milk, and butter until very warm (120 to 130 F). Gradually add to flour mixture. Beat 2 minutes at medium speed of electric mixer, scraping bowl occasionally. Add egg yolks and 1/2 cup flour; beat 2 minutes at high speed. Stir in enough remaining flour to make a soft dough. Divide dough in half; roll half of the dough on lightly floured surface to fit the bottom of ungreased 15" x 10" baking pan. Spread with Apple Filling. Roll remaining dough large enough to cover filling. Seal edges together. Snip surface of dough with scissors to let steam escape. Cover; let rise in warm, draft-free place until doubled in size, about 45 minutes. Bake at 375 F for 20 minutes or until evenly golden. Drizzle with Powdered Sugar Glaze. Let cool in pan; cut into squares. Powdered Sugar Glaze: In a small bowl, combine 2 cups powdered sugar, sifted; and 3 to 4 tablespoons milk. Stir until smooth

• United States
29 Aug 07
Saved this along woth the smoked apple turkey one from earlier also. Thanks bunches.

• Indonesia
29 Aug 07
Ooohhh,,,,I so envy you for having a garden at home,,,..I live in a city where garden at home is hard to get,..and I'm afraid of slimy crawling creatures such as worms, bugs etc so I can't garden myself. I can't give you any recipes but for me a fresh picked apples are great to eat by themselves,,,,......i'm so drooling right now for those apples.......

• United States
29 Aug 07
LOL you are too funny and at least you got a pic of the apple before you ate it! I picked some granny smith apples the other day down on my grampa's land and I made apple crisp. Yummm! Any way I am glad to see that your apples turned out as scrumptious as they did!

• United States
15 Sep 07
those look like some very yummy apples, I don;t have alot of recipies that call for apples but usally you can find very good ones from allrecipies.com

• United States
29 Aug 07
I love apples and I like to pick them too. I remember when I was a little girl we had an elderly neighbor that had an apple tree. She would let me come and pick apples. I would give her some and then I'd take the rest home. They were so good. I wish I had an apple tree. I don't know any recipes right off hand to make with apples though. I'd have to go through my recipe box.

• Canada
29 Aug 07
I like to make apple crisp the best, mostly because I am lazy. You just peel and slice the apples, put the sliced apples into a small cake pan, mix in a few spoonfuls of sugar and maybe a spoonful of flour, and add a topping. For the topping, I usually mix up some oats, brown sugar, and flour. (About 1/2 the amount of flour as oats. Same amount of brown sugar as oats). Then I cut in about a third of a cup of butter, and sprinkle the resulting mixture over the top. Then I bake it at 375 degrees celcius for about 25 minutes.