Do you like to fly?

United States
5 responses

• India
8 Sep 07
I enjoy flying, but I try not to fly when I have to travel a short distance, like from one state to another.. I prefer driving in those circmstances.. I am not scared of flying, just that after the sept 11 attacks, I get a little nervous when the plane takes longer time o take off or when it keeps on hovering in the skies becoz of the traffic at the runway...

• Malaysia
29 Aug 07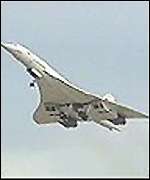 Depend on the linear distant. I love to drive. If it takes for more than 10 hours driving on the road, I'll check my wallet full or fill. If full better to take plane to that destination. Me too...enjoy flying, no..no..never scared of flying. That is why I enjoy flying. Flying better than driving because of stewardess, having nice chatting with them..that is the only most wonderful for me to take flight....STEWARDESS!!.

• United States
29 Aug 07
i dont mind flying. im not afraid of flying at all, i just dont like having to be that close to that many ppl for an extended period of time. cramped in there like sardines. it is the fastest way though and sometimes thats more important than comfort. personaly i really love traveling by train. ive only been able to do it twice for short 2 or 3 hour trips, but its relaxing, scenic and all in all a great experience in my opinion.


• United Kingdom
29 Aug 07
I like to fly because places get to faraway places quickly and easily. Airfares are often cheap considering the distance traveled. I used to suffer ear pain on landing but now I wear plastic screw like things in my ears to avoid this. I like to get a window seat as in the middle of the plane I feel bored as I can't see out. Sometimes I am lucky enough to see amazing views like I did in the Maldives of all the green islands and blue sea below. Flying into Cairo I got a superb view of the pyramids. Wow! Sometimes economy class seats can be cramped. Once I got a free upgrade and noticed the amount of space and service was far better. When I flew one time everyone was handed a newspaper and on the front cover was a photo of a concord crash. This sort of thing doesn't happen very often I am glad to say. I feel fairly safe when I fly.