Right Age to DeClaw?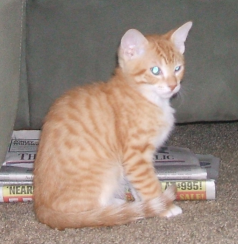 United States
August 28, 2007 11:15pm CST
Just got a kitten!! I LOVE CATS!!! I've always been a cat person....but for some reason, I keep gettin with guys that are dog lover's...go figure!So anyway, finally got me a kitten and I was wondering what is the best age to get them declawed?We have toddlers and I babysit an infant...so I think getting at least his front paws declawed would be wise.
9 responses

• United States
29 Aug 07
Declawing is cruel and unfair to the cat. keep them away from the children if you intend on having them both in the same area or teach them to respect each other if they're old enough.


• United States
29 Aug 07
Please do not declaw your cat! It is very cruel and inhumane thing to do. Check out this site and you'll see why. http://www.web-tides.net/vir/declaw/html It's very informational about declawing and the affects of it. Get a couple scratching posts for your cat to use and when it starts to claw on other things, say No No! and then take it to the post and pet the kitten so it learns to use it instead.

• Australia
29 Aug 07
I couldn't agree with you ANY less, declawing a cat is not only painful but unecessary. If you give your cat a chicken bone, how do you think he's suppsed to hold on to it? They need their claws for things like that & climbing etc & i think you're probably better off with a pet that doesn't have claws if the only reason you're doing it is because you have kids. If you were SET on having a cat then you probably should have waited until your kids were older & knew how to be gentle so the claws wouldn't be an issue :) My daughter has a kitten & we have 2 other cats as well, most of the time they will just run away from her anyway. It's entirely up to you but it's like getting a dog's tail cut or ears sliced coz of the breed, cruel & something that really doesn't need to be done at all. Good luck with your new cat but give a little more thought before you jump in to it coz it does seem very unfair to the cat to be altered to suit you - you should get a pet that suits you perfectly without needing to be altered!

• United States
30 Aug 07
Ok...so to be perfectly honest...I didn't realize that declawing cats was such an issue. I had a cat once that I got from a rescue shelter and he was already declawed and was the happiest cat ever! lol I've never HAD a cat declawed, so I wasn't really aware of the facts. I suppose I would have maybe changed my mind anyway after speaking with a vet about the procedure. Just so everyone knows, I already plan to get scratching posts...and I had told hubby how fun it would be to get one of those cat trees!! Hours of entertainment for not only him, but for us as well! lol. So, I will NOT be getting him declawed now. Like I said, I'm a cat lover....and it has been years since I've had a cat...(mostly had cats in my child/teenage years) Thanks everyone for all the info!

• United States
29 Aug 07
Please don't do it! I am not going to go on about the cons since they have already been covered above. I am just going to add my vote to what I am sure will be the majority. I have had cats my entire life and I have babysat many children from infants and up and they were all FINE! Please leave kitty the way he is or give him to someone who will.

•
31 Aug 07
I know you think it's ok cause many are doing it, but honey it's awful to do to a cat. If your life is not going to allow you to have a cat with claws, just give it away to a home that can deal with it. It's terrible to mutilate an animal simply because you feel like you can't control it with claws. I have 3 cats and raised 2 babies with them, never have my girls been scratched nor my furniture torn up. I watch the kids and the animals, it just takes some work. So please if you can't deal with the cat with claws, just get rid of the cat to a good home. Don't have it declawed.

• United States
30 Aug 07
I think my vet said 4-5 months they can get declawed..I know both of my cats are old enough now to get declawed....I got band new furniture so I'm not having them claw it all up and they are starting to claw at my walls...SO they are going soon to get it done..
• United States
31 Aug 07
That is so cruel!! Don't do that to your cat!! How would you like your fingers cut off? Don't do it!

• United States
2 Sep 07
its not that hard to train a cat not to scratch things, declawing is the cruelest thing to do.

• United States
2 Sep 07
getting a cat declawed is painfull and cruel i am a cat owner and would never do such a thing teach both your kitten and your children to respect each other and there is no such need!

• United States
2 Sep 07
no age is the right age for declawing, it is cruel and inhumane treatment! not trying to be rude at all but I feel that true animal lovers would not do that to thier animals. buy kitty a scratching post and teach her not to scratch furnature. you can get a squirt bottle with water and after the first couple of times she will not do it. I didnt even have to actually spray ny cats they just hear the noise and stop what they are doing. good luck to you and your new sweet kitten.