What kind of spider is this?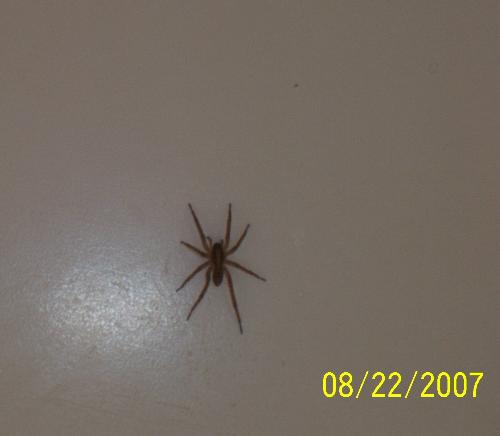 United States
August 28, 2007 11:36pm CST
I have a fear of SPIDERS! I hate them so much! Sometimes my whole night can be messed up by one little spider… I'm always looking on my walls or in corners, making sure there isn't a web to be seen. If I do see a spider, then it must die and if it gets away, then I'm up all night trying to find it or I make my husband find it. And if not, then the whole house must be cleaned and vacuumed from top to bottom. Or I wont rest. I also catch myself checking my sheets and checking my walls right before bed EVERY night. Sometimes this all can be very stressful because lets face it, spiders are everywhere and I always let them get the best of me. I'm always on guard. Recently, I found a spider, that I thought was a Fiddle Back aka Brown Recluse, but I'm not sure. I took a picture of it and I have added the picture to this discussion, so if anyone knows what kind of spider it is, let me know. All I know, I found this spider in my bathroom and now, every time I take a bath and try to relax, I can't because I feel a spider will come and attack me or something. LOL! Crazy? Well, that's me and my whole family laughs at me because they all know I hate spiders and that I'm deathly scared of them. My 5 year old and my husband are always scaring me. They have fake spiders that look real and when I'm sleeping, they will lay it right by me or put it on my chest, so that when I wake up, the spider is the first thing I see… Ugh!! Mean isn't it? Just wait. I will get them back. Pay back is a "you know what"! Anyway, if you have any idea about this spider, let me know. Or if you have a spider story or share the same fears as me, leave a comment!
5 responses

• United States
30 Aug 07
OmG i really hate spiders too.They are greepy little things that can do lots of damage..I have a friend that is just like you ,a spider will drive her crazy and she is awfully afraid of them.I don't like them but im not as bad as she is.She told me that she felt that her mom caused her to be fearful because her Mom was fearful...I feel bad for you and i know you cannot help how you feel,but i am sorry that you have this fear because it has to be so hard to be that fearful.I have seen what a brown recluse can do and it is not pretty.Before we moved back here to Houston another friend( a man) that is friends to my husband and i got bit by a brown recluse and he was in the hospital for a week ,and as soon as he got out he got bit again..He was in terrible shape and they will make the most God awful bite..I will look at your spider and see if it resembled the one which bit him..Good luck to you..He got bit weed eating his yard the first time and i don't know where he got the second bite.

• United States
30 Aug 07
The pic did not come out to clear so im not sure but i will try to explain.A brown recluse resembles a daddy long legs but it is smaller,but it has that look.It is totally brown but in the middle of its body it has like a off white looking line that if you look close looks like a bow that you play a violin with...



• Philippines
5 Sep 07
i think this is the southernland house spider. cant see their marking.

• China
29 Aug 07
Smiling. Hello, friend. I have to say that you are too scared over spiders. Yes, I have to admit that I don't like spiders at all especially huge ones. They can always make me feel nervous and make my goose skin appear once I see them. But I am not afraid of small ones. At the very beginning I was afraid to touch and kill the small ones, but later I became brave enough to give them a loud clap to send them somewhere. I was forced to because I don't want to see them in my apartment otherwise I don't feel good at all just like the way you feel. lol