first day of school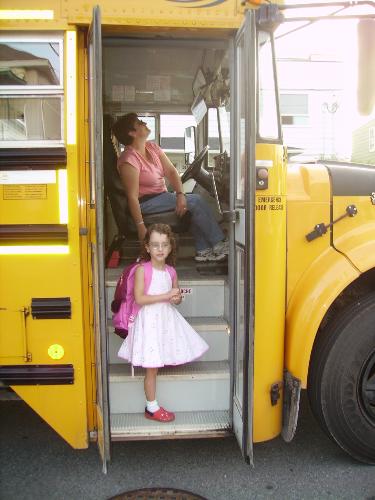 Canada
August 29, 2007 7:42am CST
my daughter started school today. she wanted to take the bus so i put her on and then i drove to the school to bring all her supplies cause it was too much for her to carry. then i waited there for her to get off the bus. she gets off, sees me and says oh hi mom, then ignores me and keeps on walking with the other kids to the school yard. then we go in the school and as she walks through the door she pulls me down for a kiss and says bye. i'm like well at least let me walk you to your class. she was in such a hurry to get rid of me. but i'm so proud of her, she is doing so well and she's so independent.
5 responses

• United States
29 Aug 07
Today was day 3 of school here. This morning my daughter asked to walk to the bus stop alone. I said okay and then she said you dont need to pick me up I know where we live. So I guess I'm just the lunch packer and breakfast maker now.

• Canada
29 Aug 07
aww that's cute. it's sad that they don't need us as much anymore but it does feel good at the same time that they are becoming comfterble enough to go with out us.

• United States
29 Aug 07
How sad!! I dread the day my daughter wants to go to the bus stop by herself!! She still lets me walk with her and wait until the bus comes.

• United States
29 Aug 07
Awe! Sounds like shes going to have an awesome first day of school!

• United States
1 Sep 07
Aww that is great poppo. It sounds like she is so ready for school. My son wants to catch the bus too so I will put him on it and meet him at his school on his first day. I think he will probably do the same to me!

• United States
29 Aug 07
I am glad I am not the only Mom that gets that treatment from her ddaughter!! My daughter use to act like she was embarassed when I showed up at her school!! But now that her friends know me they all come up and give me hugs!! It is so sweet, your daughter is getting so big!! Isn't it hard letting them get on the big school bus all by themselves??

• United States
29 Aug 07
I bet she'll have a great time at school. Where we live they have an open house a few days before school starts where they can meet their teacher and unload all the supplies they need. Our kids have looked forward to the open house so they can see their classroom and where they sit before they get started.