What you guys are cooking today?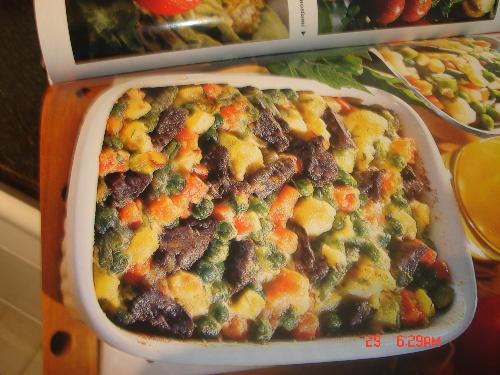 United States
5 responses


• United States
29 Aug 07
I'm making BBQ pork chops,broccli-cheese-and rice,and some dinner rolls..Thats what I'm having tonight for dinner...Tomorrow I'm making stuffed peppers....

• United States
30 Aug 07
I didn't really cook anything today. I had a small wheat crust pizza topped with a sprinkling of mozzerella and cheddar cheese. Really good. Not a lot of tomato sauce on it. To make it myself, I guess all I would have to do is buy a pre made wheat crust and then add the rest. I like it because it is healthy and it doesn't TASTE healthy.

• Canada
30 Aug 07
We had pork chops pan fried and then put in the oven to warm with chopped sweet onions, parboiled rice for my husband, spinach and Romaine lettuce salad with tomatoes, green peppers, and green onions, green beans with dill and soft olive oil margarine for myself. I also baked a white cake mix cake. I do not know what we are having tomorrow, because we are going away for the weekend and we ran out of ground beef, and all we have is lots of pork chops, and several cans of very fattening pork and beans.