Weeds, weeds oh so may weeds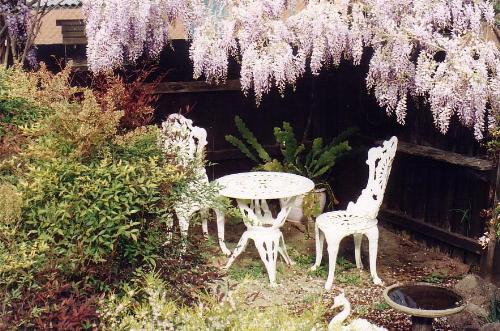 Australia
August 30, 2007 6:30pm CST
It has been beautiful weather here in Melbourne Australia so I have been spending a lot of time in the garden, trying to get it in order before the hot weather comes, I have found a lot of my plants have died because of the lack of water, but the weeds they survive through everything, I have dug pulled and sprayed but they still keep growing back, why don't the weeds die through lack of water, at this point in time concrete is looking good...green concrete..:)
10 responses

• United States
31 Aug 07
My Pop told me he didn't want me to think of myself as a flower... 'Be a weed! You'll last longer!' I wanted to be prettier than that, but he was right... if you believe you can survive, you probably will! I've had to be tough to make it thru a few things in my life, and here I am!!

• Australia
31 Aug 07
Sounds like your pop was a wise man with weeds in his garden too, I agree with him absolutely...

• United States
31 Aug 07
The man could grow a truck garden on a concrete slab!! He had a back-yard patch about 14x18, and he fed himself, the families of all 12 of his natural and step kids, all his friends and neighbors, and the battered women's shelter near his home--- and this was when he was in his mid and late 70's! He kept going til the day before he was gone... good stock!.. And an unsung philosopher, and a very good father!

• Australia
31 Aug 07
Well I am call myself a farmer this year I hae six big pots I am going to grow, cherry tomatoes, baby beetroots, raddishes and chives...I will not allow weeds in my pots, I hope I do as well as your pop....



• Australia
31 Aug 07
yes I have tried that in the past but you have to really keep at and I just haven't had the time and I have been much need water to some of my special plants as water is like golf here at the moment

• Gold Coast, Australia
31 Aug 07
Hi lilaclady. Your garden looks very peaceful and that looks like a relaxing little spot! I know what you mean about weeds surviving through the drought, and yet our lovely plants and flowers are all struggling to keep alive. I live on the Gold Coast, and we have just had a whole week of good rain, and everything is starting to come alive again. However, so are the weeds! lol!

• United States
31 Aug 07
I too marvel at the resilience of weeds. Here in North Texas we've had a very wet year so far, infact we had our yearly average rain fall by June. Now we're going through a dry, hot spell yet through it all the weeds hang around. I've not landscaped my back yard yet so its a semi jungle out there right now. I've been able to keep ahead pretty much in my front yard, however what I'm having problems with right now is the grass growing into my flower beds. :-( For my backyard though, concrete is sounding pretty good for there too. But I think I'll opt for red though. :-)

• Australia
31 Aug 07
Yes I had part of my back yard concreted with red tint, just with garden around the sides, it does make it a lot easier....



• United States
31 Aug 07
We stopped pulling weeds for fear of pulling up a plant! I did get brave and pulled a few. As I look at my garden I found a few weeds that grew quite large. They are now flowering. I keep them just the same.


• Philippines
31 Aug 07
its easy to get rid of that weeds. just a common sense

• Canada
31 Aug 07
Oh do I know what you mean. It's the same way here in my part of the world (Canada) the weeds and dandilions grow like there is no end yet my flowers like to take their time.