'Nother Halloween Question

United States
September 3, 2007 10:50pm CST
I just responded to a discussion about taking a 15 month old trick or treating, and it got me to wondering. At what age do you quit going trick or treating? In my neighborhood, we have everything from babies to older teenagers. Sometimes the big kids irritate me, since they usually bring huge bags or pillow cases! Some of these kids are old enough to have a job and buy their own candy. In the past I have just smiled and given them some candy (I always hand out the candy, never let the kids get it themselves). I don't have a problem if they're 13 or 14, but above that seems a little old. My youngest daughter is 15, and she said last year was going to be her last year to go out. I think that's about right.
10 responses

• United States
4 Sep 07
I would say you are never to old to go trick or treating!! I am going this year and I am 30! I guess I should point out that my 18 month old will be tagging along. :) I think the last time I went trick or treating was either 8th or 9th grade. I know that a bunch of us neighborhood kids went kind of as a joke (we knew we were to old) but it was still alot of fun!

• United States
11 Sep 07
I think my appearance alone will be scary enough!! LOL

• Canada
6 Sep 07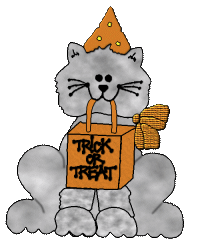 My daughter is 15 months right now and I did a discussion about what age parents start taking them and I think you responded to it lol. My parents told me that once I became a teenager I wasn't allowed to go anymore, and to me that seemed fair. I think when my daughter is 12 or 13 that will be her last year as well. I too have gotten old trick or treaters, but I just gave them the candy and let them go on their merry way.

• United States
5 Sep 07
It's unfortunate but in my neighborhood there isn't much trick o' treating done anymore period...it's not as fun as it was say when I was a kid...too many weirdos around that spoil the fun, and this was so even when I was a kid----the big scare back when I was young was some lunatics thinking up the idea of giving out apples with razor blades in them...this was some sick people's idea of fun...I can't really even remember when I actually stopped trick o treating, but most of the time it would be Halloween parties we'd all go to with our parents..but maybe did stop completely around age 12 or 13.

• Canada
4 Sep 07
It is the same around here where the children range in age from younger children to teenagers . I don't have a problem with the older children trick or treating as long as they are not out to cause problems and this seems to be the biggest problem . I can remember one year we had a few older children who came trick or treating at our house and we are always very generous with what we give out for the simple reason that growing up I lived in an area that we didn't see trick or treaters and then when I had my own children I was never around to see the trick or treaters at our house , so when we do get someone we are very generous with what we give even when I have seen them come back for seconds in a different costume and I know they have done this , but on this particular year we gave them a bunch of candy but when they left they egged our doorknob which I thought was just beyond rude , to go to someone's house looking for candy and then to return the favor by egging the door . As it was it was my brother in law who got egged when he tried to come in behind these children . We never did find out who it was or even why they would want to do this and I was hurt and upset that any of the children would see this as funny . One of my daughters is 15 and she decided last year was her last year as well , which I agree is appropriate . I have seen children as old as 19 show up at our house for candy and have thought this a little old to be out when like you said they are old enough to have a job and buy their own candy .

• Canada
4 Sep 07
My last year to go trick or treating was when I was 12. I think most kids around my neighbourhood stopped when they reached high school.


• United States
4 Sep 07
I stopped going at about 14. But nowadays, parents seem to send their teens out with their kids. My parents took turns taking us. My Dad would be one year and my Mom the next. It gets so dark here so early, I often wonder if a teen can keep track of, watch children effectively. Seems like a disaster waiting to happen. I wish more people would trick or treat for Unicef. Don't forget diabetic kids. We used to have a diabetic kid come. She did trick or treat for Unicef. I asked her if she wanted any candy. She sadly told me know. When I asked why, she told me. My Mom had some diabetic candy. So I gave her some of my Mom's. Her face lit up and she ran back to her the car saying, "We have to come here every year, they have diabetic candy, too!" That really made my Halloween.

• United States
4 Sep 07
When their parents let them eat candy, then that would be a good age to start. As for an ending age, that is a bit more tricky. I don't mind if older kids come. The only thing that bugs is if they come in their street clothing. The whole point is to dress up and have fun, not go looking for free candy. You can find item around the house to dress up in, so it doesn't cost a lot of money if any at all.

• United States
4 Sep 07
I know even the little kids use the pillow cases for their trick or treat bag. And I think that is just because it's easier to use and cheaper then actually buying a trick or treat bag. Not all can afford the actual trick or treat bags. I have seen them as young as 3 carrying a pillow case. Heck, I even did as a kid. I don't really think age matters. I don't see what the big deal is. If a 15 year old wants to trick or treat, I don't mind it. Although, we really don't do trick or treating here in my town. It's pretty much almost banned. My neighborhood doesn't allow door to door treating. So we usually just go to grandmas house or to a chruch function, they usually have candy to pass out and or a halloween party for the kids of all ages, even adults. So thats fun. I have a 5 year old and a 20 month old and this halloween we are not going door to door. We actually both agreed to not take the kids door to door ever. We are sticking to the halloween parties and get togethers. It's more fun and safe. I havn't had a trick or treater at my door in years. Even Wal-Mart passes out candy now. The kids can actually walk down each cashier and then they get candy passed to them. So there are ways to have fun without going door to door. So on that note... age doesn't matter to me... it's about having fun.

• United States
4 Sep 07
If I remember correctly, the last year I went trick or treating was like 12. After that I just handed out the candy. I think 13 is too old personally.