national sport of your country

Singapore
September 3, 2007 11:27pm CST
I am from China.Undoubtedly,the national sport of our country is ping-pong.Our ping-pong players can almost win all golds of ping-pong in Olympic Games. yours??
1 response

• Philippines
4 Sep 07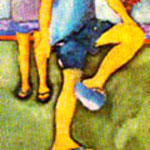 Sipa is the national sports in the Philippines. Other popular recreational sports include boxing, billiards, basketball, chess, ten-pin bowling and football (soccer). Boxing, billiards, basketball and soccer are popular among Filipinos. The Philippine Basketball Association (PBA) was founded in 1975. Dodge ball or mistakenly called as "touch ball" is also a favorite sport of those who play in schools during break time. The sports where the Filipinos have gained international successes are boxing, billiards (notably nine ball), ten-pin bowling, chess and football (soccer).

• Singapore
4 Sep 07
Aha!I see!Sipa is also popular game in China.I still remember I am good at Sipa when I was a child.What a pity.It isn't a item in olympic games.And I hope one day it can be.

• Philippines
4 Sep 07
How do you call sipa in your country? Most Asians are participating this game in some sports contests but not yet included in the Olympics. BTW, the next olympics will beheld in your country. I guess you are very much excited to watch this Olympics next year!