Listening to Catnip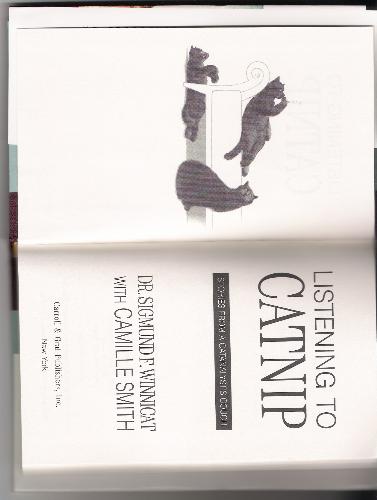 St. Catharines, Ontario
September 5, 2007 10:06pm CST
Listening to Catnip by Dr. Sigmund F. Winnicat with Camille Smith This slim volume is subtitled "Stories From a Catanalyst's Couch", and is hilarious. The premise here is that Dr. Sigmund F. Winnicat (Fluffy to his pet humans) treats daydreaming disorders through the therapeutic use of catnip. His "Good Home" has a catdoor that allows his patients to come to him, although he has made house calls and conducted sessions via email. (He hides his correspondence in a secret directory that his pet humans think is part of the computer's operating system.) As in any clinical study treatise, there are numerous footnotes* and references to other works, such as Kitty Friedan's landmark work "The Feline Mystique" or Franz Catka's "Metamousosis". While written in a deadpan, academic manner, the language is liberally felinenglish ("pawsome", "catolescence", "purrsonality") and recounts five case studies of feline neurosis, delightfully illustrated by Paul Bacon. Published in 1996 by Carroll & Graf Publishers, Inc. ------- *At least one footnote per double page spread, and often two or three...
1 response

• United States
6 Sep 07
Thanks ever for sharing this...I'm going to have to hunt down a copy of this, either in my library, or I just did a look and Amazon.com sells used copies of this book for an unbelievable penny--of course the shipping charge is $3.99 but, hey what the heck..right?

• St. Catharines, Ontario
6 Sep 07
You're welcome. I know you'll love it. I got my copy at a yard sale this past Saturday. I paid a whole dollar for it, but it is in mint condition.