Oh MAN!! HUGE Snake!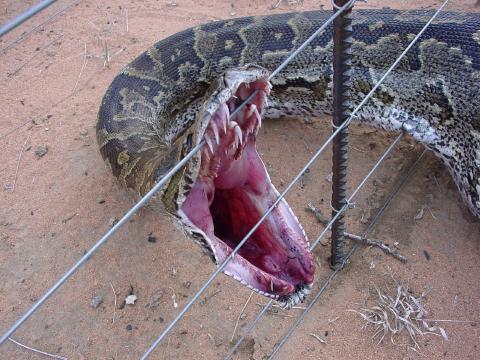 United States
September 6, 2007 12:08am CST
A guy was noticing that his sheep were missing. He put up an electic fence to deture the preditor. This is what he found!! A HUGE Snake, which had just ate a whole sheep! It got caught in the fence. Look at those teeth! Heres the link: http://www.snopes.com/photos/animals/fencesnake.asp
4 responses


• United States
6 Sep 07
I like snakes and all but this one would make me crap my pants and run like hell!!! LOL

• United States
8 Sep 07
"We've got to get the truckin snakes off the truckin plains!!!" ;p *waits for boos to die down* Man thats a huge snake. Don't know if I'd take it for a pet. Nah probably wouldn't, last thing I need is to end up consumed by that monstrosity.

• United States
10 Sep 07
LOL...I wouldnt want him around either. He would eat my kids and my dog for a snack then start on me! That would make a great story for the news though!! "Woman, child and pet devoured by monsterose snake!!" LOL

• United States
6 Sep 07
Where is Steve when we need him...Better call in Bindi to the rescue..Snakes are her specialty..

• United States
10 Sep 07
SHe loves them. I think it would have swallowed her whole though!!

• United States
13 Dec 07
Oh my-- I hate snakes. That is one snake to stay away from! No telling what he has eaten! The teeth are huge...not to mention the snake. Happy holidays!