Is anyone like "sego sambel"/ chilli rice at dharmawangsa street ?


Indonesia
4 responses


• Indonesia
10 Sep 07
yeah, when i was in college(ITATS) i have rent a room near that area, it was in karang menjangan street. My major is architecture and i only can concentration at drawing my project at night(noisy that place. Lots of children). So when the time stomach yelling, me and my friend favorite is that sego sambel. They still open till 2 o'clock in the morning, even when ramadan feasting time they open until 5 in the morning.

• Indonesia
13 Sep 07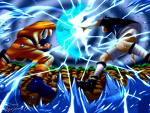 im a though girl back there and its just one blog near my house, so its ok.


• Indonesia
11 Sep 07
haloo ifnalife, chilli rice? i never try it. whats in it? sound like this chilli is so spicy.