Do you have a family bed?

United States
September 7, 2007 5:30pm CST
When our children where growing up they wanted to sleep with mom and dad every chance they got and often times tried to get into our bed in the middle of the night. Our son wanted to sleep with us every night it got to the point I would have him sleep on the floor beside the bed. Our son got to the point where he would get up and instead of sleeping on my side of the bed on the floor he would lay on the floor in front of the bathroom door. Every night it seemed that when my husband and I got up to use the restroom we would walk on our son. I always said that our son did not feel loved unless he got his nightly walked on. LOL We would let the kids sleep with us when they where sick or they would have bad dreams once they got older and did not need to sleep with mom and dad every night. Now the children are 29 and 26 and no longer live with mom and dad. We still have a family bed. It is a family bed for my husband and I and our pets. My husband gets up at 5AM and I get up with him to make his lunch I go back to bed and so do the pets. I have Sammie one cat at the head of the bed against my shoulder, Abigail the other cat at the end of the bed on daddy's side of the bed and Petie our dog sleeping anywhere else on the bed. During the day I can go in the bedroom and find one of the cats sleeping on the bed. So now that our children are gone we still remain to have a family bed. Who out there has a family bed even if you do not have children?
3 responses


• United States
8 Sep 07
You are so blessed to have a fur blanket in the summer time. LOL When my cat sleeps on my head I say I have a fur hat and the other one sleeps on my chest I call her my fur coat and they do not even match. LOL I loved the photo you posted they are all beauties. My hubby and I have a king bed so when Sammie sleeps between us she cuddles up to me and not him. Abgail sleeps against my hubby at times and sometimes on his feet. If you knew him before his stroke he would wake up swearing if the cat laid on the blankets and he could not roll over let alone lay against him or on him. Now he loves the pets.

• United States
8 Sep 07
I'm sorry your husband had a stroke, but glad it seems to have affected him in such a positive manner. My former roomie has an aunt that was an absolute lunitic and evil woman before she had a rather major stroke that's put her in a nursing home, but it also seems to have taken the crazy, evil part of her mind & made her a nice person. A friend's grandmother, between the strokes & dementia had gone from hating animals to loving them, she wasn't sure if she liked the change or not - she didn't feel it was quite her grandmother there at the end.

• United States
9 Sep 07
Your right it is not them when they change from something like that. I have had to do some trading off. He is not the same person I married with good things and bad things. I have had to become his mother and remind him to do things and nag him about stuff. I hate that part of the stroke. He does stupid things like you see men on television do which totally drives me crazy. I did not get married to be his mother, I raised our two kids now have to raise him. Oh well I guess it is my lot in life.

• Canada
1 Nov 07
Like you, my cats are part of my family. Every night one of my three cats come and sleep with us. Most of the time he even sleep all night. When I go back from work and that I'M really tired I go take a nap and he comes with me. he always sleeps beside me. Not at the end of the bed, just right beside me and even sometimes in my arms. I know it,s gonna change a little bit for him when the baby will arrive, but he will have to live with it :P he's a big boy now lol

• United States
3 Nov 07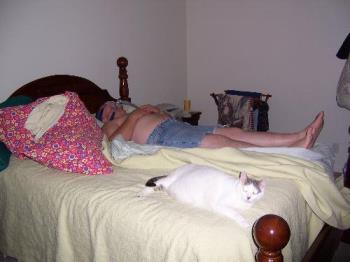 I had Forrest who I attached the photo. He use to sleep at the side of the bed at my shoulders. I would put my arm up and he would cluddle up under it. I would sometimes lay my head on his rump to sleep. I had to put Forrest down a few years ago. Now Sammie who is my Avatar photo has taken his place in bed to keep me company.

• United States
7 Sep 07
My kids are 21 and 17 (in a couple days) but, when they were real little, they would always crawl into bed with us. I didn't mind. When they were sick, I insisted they stay with us and one son had a severe illness and I kept him in out bed when he was four to be sure he had no night time seizures. Needless to say, those days are gone but we do have Mickey who sleeps with us every night. He is my Jack Russell Terrier. I say MINE because he really is mine. He goes to bed when I do and gets up when I do. he would never consider going to bed with my husband. He patiently waits for me. Sometimes one of our three cats will join in. I can't sleep if Mickey isn't in bed with me. I know that is nuts but I am used to it and I will wake up immediately of he isn't in bed. He snuggles right up me so I can feel him there and I sleep fine. Sounds crazy but I am a HUGE pet lover and this guy is now my baby. I don't think my husband and I ever had the bed to ourselves. Before the kids, I had another dog and acquired a few cats and everyone piled into bed with us! lol.

• United States
7 Sep 07
We where pregnant with our daughter when we got married so we really did not have a bed to our selves. I had a hard time getting use to sleeping with someone touching me. I know that sounds strange but I am not a cuddler. That is why I did not like the kids in bed with us. Now the cat that is my avatar sleeps between my husband and I at my head or at my shoulder. I am getting use to her there and I do miss her when she is not there. The dog is a papillion and is only 6lbs he sleeps in a kennel at night but when I go back to bed in the morning he is with the cats and I. LOL