worldinvestmentalliance.com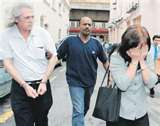 Philippines
September 7, 2007 10:18pm CST
this site is a clear example of a cheat site. after i joined a month ago and earned almost $9,000 i was so excited.. but since i tried to ask for a pay-out of $30, i never heard of them because the site never pays.last time i check on the site it no longer works because it is suspended. have you joined worldinvestmentalliance or other hyip programs? plz share your experience.
4 responses

• Philippines
9 Sep 07
i myself has joined worldinvestmentalliance. i earned $0.45 from them, lol! i also tried other hyip sites wherein i lost $11+. recently i was scammed by kale trading. they have been paying but stopped last august, sigh! anyway, here's more on hyip sites: http://www.mylot.com/w/discussions/1214619.aspx also, if you like to earn extra money online, you can check my blog st http://cutieissa.blogspot.com =)

• Philippines
10 Sep 07
thank you for your reply. did you ask for cash-out? my suspicion starts when i visited some hyip forums lambasting the said site for not paying its members, that is also the time when i realized i was scammed.

• United States
8 Sep 07
wow im sorry to hear that. but for future reference, if a site pays you too much for such little work, chances are that they are a scam.

• Philippines
8 Sep 07
yeah, the site seems to good to be true. but as the saying goes, regrets is always on the end.. hope other people would be aware of this scam sites.. tnx for your reply

• France
28 Sep 07
Yeah...it's really true.... 2 years of search.....bbbrrrrrr.....froZen!!!!My Blog : Http://meetloft-plateformedelta.blogspot.com