Would you like to have a day only for you Mothers?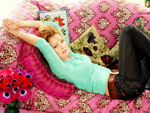 Sweden
September 9, 2007 3:34am CST
Even if we are married, having kids on your own as singel parents. Don´t You think we should have one day of our own. A day where we can do everything we do not have time for? We do so many things for others and forget about ower self. That is no god for any mother. Mothers need to have time to think about issues that need to be solved. Mothers need to relax and pick up energy for al the things she have to do. I try to take this day on a sunday, if I can. I do work even on sundays so there are not many sundays to relax on. However, I try to think about problems in need to be solved and solve it. I think about the coming week and the tasks to have to do. Pick out the must things and the things that can wait. What about you, how do you pick up the energy for al the tings that you as a mother have to do?
5 responses

• Portugal
10 Sep 07
I certainly do like to have time which is for me only. As mother, it is not really an easy job. Taking all those household chores every now and then, taking care of the kids and the husband is really tiresome yet I honestly enjoyed it. But of course, how I wish I could have my own time for myself. :D like having time to go out alone, having a body massage for an hour, having a long sleep, etc. Well, one day is enough for me I guess, to regain my energy and strength for the next tiresome days again. :D


• Portugal
11 Sep 07
wow! It's good for you that your son is grown up now. I have two kids and my eldest is only 7 years old. He can help me in some lil ways like fixing their toys in to their proper places; I can't give him big household chores yet. My daughter is only 5 years old and she is still a baby. So I must do almost of the work. :) Hmmm....I think I will follow your style of having your son payed for a work. :D I seen something that the outcome is really good, for them to realize how hard their dad works for them to raised them up. Right? Thanks for the wonderful idea friend. I will definitely do that. See yah around. :D

• Sweden
12 Sep 07
Well, the life is hard for all of us. We have to work to get budget to go around. So as We as grown ups I believe the kids has to learn that nothing in the world are for free. Money to pay of bills do not grows on treas. Therefore I think it is god for kids in a early stage learn how we do get our money and how you can benefit from it. I think you should start in 7 years. It´s when they start school and all the other kids probably have a week pay from mum or dad. But just to have it is not an obligation for me, you have to earn what you get. God luck. I believe your kids will appreciate it in the long run.


• China
10 Sep 07
although i am not married,but i do watch a lot of movies about mothers having kids.they spend almost their energy and time on their children,teaching them to speak,to walk,accompany them playing games...... i was pretty impressive about the mother named lynette in desperate housewives,she is a great mother,she has 4 kids and had to give up her career to become a housewife.it is really hard for a career woman.but she did so.she is so busy everyday.and at night,very tired.i even think of that how could she handle four kids at the same time without help from others ,if i were her,i would go crazy one day. so ,i do think have a day of ur own is really necessary to relax.

• Sweden
10 Sep 07
You bet, It is not easy to take care of one kid, and to have four of them. Wow. My son have disorder of ADHD, that make him double work. I do not only have to be his mum(who set the rules)I also have to be his support(his speaker everywhere), and his best friend (the one who always listened). this take all my energy and I need to take my time at least one time per day to keep up. I am single mum, the father live in a town 40 miles from us. But my son goes to see him once a month. However, I do all this on my own. So in order, from order by my sons doctor, I have to take some time every day on my own. However, that is not easy since I do work part time on a duelist. Some days I work on day for 9 hours, some days I work in evenings for 5.5 hours. And every others week I work in weekends. To have my time for my self, I take it when I have worked, made the dinner and the dishes. When I have the day of from work I do the housework during the time when my son are in school. When He goes to friends I have my time for my self. But think of it having four kids in different ages.....I wonder how to have the time for your self. The mothers should learn to ask for help. We are not robots, we need a day of....we need energy...we need sleep....but god what fun we have.....*smile*. Have nice day and thanks for responding.

• Philippines
10 Sep 07
I certainly think you're right! Being a mom is not an easy task. It takes a huge amount of energy to be able to do your responsibilities at home. I, for myself. stands both a father and a mother to my kids since my husband is working abroad. Imagine that?! Absorbing just every single problem and concerns about the family. Doing every single task of sending them to school and maintaining the orderliness of the house. Most often it is only at nights when I'm over the chores and over the things I have to do for my kids. What do I do? There are times when I let them sleep by themselves and have the night for myself. It may take you to sleep late but that's the time I spend just watching late television shows. Just taking advantage of the quietness of the night. It's the time I can re-charge and not think of any worries. Just let the night pass by without thinking of anything. Relax and spend the time for prayer. It helps...a lot!

• Sweden
10 Sep 07
Take this in consider to, you are suppose to exercise to, to take care of you health....wow, where do we have the time for that. I do not know how to put the exercise in to this duelist's. But, I have recently found a way to relax. I take the time on line. Do some surfing and make some extra and get energy to do the rest of the houseworks. I exercise my head...*smile*. Keep up with the English that I do not use to much. I exercise my knowledge on line. Al the mothers need their own time. Since I do have a regularly work I have to sleep in nights, so I take my free days On line. Since I am a single mum I take my time when I feel I need it. My son is 16 years old and some things he just have to help out with. Or there will not be any money for him to spend in the end of the week. We have to be more consistent and demand our children to help out. But I know, that is something we mothers have hard time to do. Thanks for the respond

• India
9 Sep 07
Iam Mrs.Sundar and Mother of two childrens.I Love to Take off one day from all the routine work i do , but i think of my kids and in-laws and my mother i feel that they too will have the same feeling that i have. If i stop doing a work for a day they will do it for me which i do not want them to do it, so when i grow old may be my daughter-inlaw and my daughter will think like this and give me off from all the routine works that i have been doing now.Mother hood is some thing which everyone does not get so keep aside the thinking of taking a day off .Instead start enjoying the things that u do in the week ends, do some thing special and different in the week end which does not make u feel that the daily routine is continuing in the week ends also. thanks.

• Sweden
10 Sep 07
I always enjoy my doing. However, I am a single mum with a son with the disorder of ADHD. I always have to be one step before him. Even if he is 16 years old I always have him in front of what I do. However, once a week I have to take a day of these duty and I do that when My son take his trip to his father. In this way I do get the energy I do need to keep up with the rest of the week. Thanks for responding.