which kind of food is better for your domestic rabbit's health?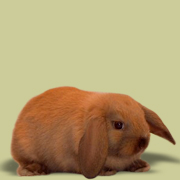 Italy
September 9, 2007 7:47am CST
i have never had a rabbit bfore as a pet! so i took one in this way i saved him if not died!!now i have notmuch experience with this kind of animals so which kind of food is better for his health?vegetable or special food for them or which?let me know...
2 responses

• United States
9 Sep 07
Everyday I feed my rabbit some Orchard hay. You can also use some Timothy hay or Alfalfa(sp). I prefer the orachard hay because it isn't has hard/sharp. Hay is important for them because they're prone to hair balls, and it helps their digestion. I also give him some pellet food, and a mix of different vegtables. I use carrots, fresh green beans, tomatoes, romaine lettuce, spinach, peas, parsley greens, cilantro greens, a limited amount of fruits like apples, oranges, bananas, pineapples,pretty much anything you can think of. But not too much with the fruits, just a small amount. Stay away from onions, avocados, and iceberg lettuce. I can't say for sure, but I know they're toxic for lots of animals, except the iceberg lettuce-it's all water and has no nutrition. Here's a few links on rabbits with lots of info on their care: http://www.rabbithaven.org/BunnyBasics/bunnybasics.htm http://www.rabbit.org/faq/index.html Good luck with your new rabbit!

• United States
9 Sep 07
The other nice thing with orchard grass is, a lot of people who are allergic to timothy hay don't have much of a problem with orchard grass (myself included). Plus you're not likely to get hay pokes, like you said it's softer (back when I used timothy hay I had a couple rabbits that ended up poking their eyes on it and needing treatment, but they weren't the brightest of rabbits).

• United States
9 Sep 07
Rabbits should have a diet that consists of mainly grass hay (such as timothy hay or orchard grass, not alfalfa). They should have hay available at all times. You also want to supplement the diet of hay with fresh veggies, dark leafy greens tend to be best. Stay away from sugary foods like fruits and carrots (in moderation, these are okay, but they should not be the staple). As far as pellets, some people feed them and some people don't. I have a rabbit that's been on a pellet free diet for the past 5 years (he's 12 years old now). My younger rabbit (2-3 years old) still gets pellets. With pellets, for a rabbit under 1 year old you want alfalfa pellets (easy to find). For a rabbit over a year old, you want timothy pellets (alfalfa pellets have too much calcium and protein and can contribute to things like bladder stones in adult animals). I buy my timothy pellets online here: www.oxbowhay.com but Kaytee now also sells a timothy pellet you should be able to find in pet stores/feed stores. You want to make sure you are just buying plain pellets, no fancy treats in them (seeds/nuts and such present a choking hazard and aren't really healthy for your rabbit anyway). Hope that helps!

• Italy
9 Sep 07
ah omk understood so i think i'm right now with the food!!hanx for your help..i think now some things are clear!!;)