Has anyone ever re-finished hardwood flooring?

Canada
September 9, 2007 2:42pm CST
I'm looking for some tips on re-finishing hardwood floors since mine is pretty scratched up, and hoping that maybe someone on here has done it themselves, and could give me some hints or pointers, especially on what kind of equipment I'll need to rent, and approximately how much it cost you to re-finish yours, since I need to set up a budget for this.
3 responses

• United States
11 Sep 07
Hello Breepeace, Wow, it's alot of work!!! But, the end result is truly amazing. Helping you determine costs will be difficult because we don't know the size of the floor to be finished, or how quickly you work. However, this should help. You'll need to rent a floor sander from a rental place. We did our floors in 2000, and the rental cost was $150.00 (US) per day. However, we rented on a Saturday, which meant that we didn't need to return it until first thing Monday morning. This equates to a two day rental, for the cost of one. Then there's the cost of the belt and/or orbital and hand sanders to work in the tight areas that the floor sander cannot reach. If you already have an orbital or belt sander then that'll save you some money. You'll need to decide whether you want to stain, then polyurethane the floors, or if you want to use a combination product. I don't know what type of wood you have, but ours are oak. We were refinishing approx. 300 square feet of flooring, and we wanted a light oak finish. So, we only used one gallon of stain, and between 3-4 gallons of poly. We applied three separate coats of poly. Remember to read the can for dry times in between coats. The first application will dry faster than the second or third. So, do add time with each coat. Do make sure to get some good knee pads (ouch! This work is tough on the knees.) Get safety glasses, and face masks, so that you're not breathing in the dust. And, if at all possible, you'll save hours on clean-up time if you can tape off the room (with rolled plastic) that you'll be sanding. Believe me when I tell you that otherwise the dust will get everywhere! Sanding tips: make really sure to pay attention when using the floor sander. It's a heavy piece of machinery, and can easily get the better of its user. This can cause serious dings, and unevenly sanded spots. Pay attention, and if you have someone working with you, have them monitor your use of the machine to keep an eye out for level. If you want the floors to look really spectacular, give a little extra time cleaning up after the sanding. The cleaner the floor, the less dust speckling you'll have mixed into your stain & poly. As I said, this is hard, hard work. But, the rewards are great! So, Good luck!

• United States
10 Sep 07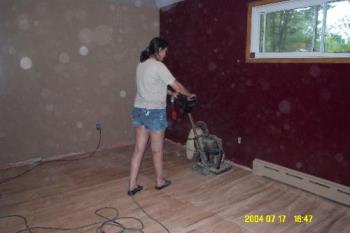 My daughter refinished her floors with the help of her boyfriend and his cousin. It was quite a job. They rented a big floor sander to do it, and it took them more than a week, working on the floors for hours. It was beautiful when they were done, but now they look worn out again already after only a few years.

• United States
9 Sep 07
Sorry I've not done that yet. More of a carpet man. But I did find these http://www.ehow.com/how_1856_refinish-hardwood-floor.html http://www.finishingwoodfloors.com/ http://www.lowes.com/lowes/lkn?action=howTo&p=Improve/RefinishHardwdFlr.html# From what I can tell, if you do a water test and if the water beads or absorbs slowly then you can just plain clean and polish. If you need to refinish, you need to remove any loose nails because they'll mess up the sandpaper/sanding. Oh and make sure your floor is thick enough, otherwise you'll hit the subfloor. Good luck Bree.